Average rating from 12 users
I bought the air dry cream - it works SO WELL. It has become a staple. First, I love that they use aluminium packaging. Second, the scent is perfection. It's slightly sweet but smells really clean. Lastly, it's not too heavy for my super fine hair which is rare to find. In love with this product!
---
I've only tried the air dry cream so far, and it's great . Usually when I air dry my hair it looks frizzy and the ends stick out. The air dry cream gives it just enough control and texture to look intentionally messy. Will definitely try other produces from this line.
---
---
This brand works! The air dry cream is my all time favorite - I have wavy hair and if I put this in my damp hair it dries in nice waves without frizz. It also doesn't leave my hair looking wet or crunchy. Shampoo, conditioner, and oil drops are also nice. Scents are good, and not too overpowering.
---
What is Thingtesting?
Thingtesting is an unbiased place to research and review internet-born brands — because honest reviews help us all shop better. Learn more.
---
I loved that all the packaging was recyclable and was mostly made from aluminum and glass. The shampoo and conditioner in the purple containers was really great super hydrating and packed with good ingredients. Only thing was the smell on everything was pretty strong and not exactly what I like (very artificial and floral) but otherwise great experience with this brand
---
AIR DRY CREAM. I look forward to washing and drying my hair because of this product. It's such a versatile product - you can put as much or as little as you'd like. I love using it when I dry my hair with a hair dryer because it really does tame the frizz. I also like using it when I air dry my hair and it results in the most gorgeous wavy texture! And the tube is huge and well worth it's price! (Also for the review right below me, there's a video on the website for this product where JVN shows how they use it!)
Feedback
The packaging. I love the paint tube packaging because it's so pretty but I know that when I get down to the end, there will be so much more product that I can't access. I won't be able to use every last drop and I think there's better packaging options out there.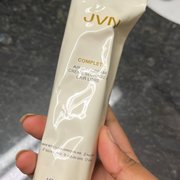 ---
Love the air dry cream! It has been a game changer especially with taming and preventing static during this cold, dry winter. I find I can go longer between washes as well. Love that it comes with a little key to make sure you get every last drop, and there's a mini version for travel.
---
I have used a few JVN products, namely the moisturizing shampoo and air dry cream. I love the scent of both products, and the shampoo works really well. On the recommendation of my hairdresser I sometimes pair it with a clarifying shampoo (i.e. wash with clarifying shampoo and rinse, and wash with JVN and rinse). My hair has never felt better and I finally feel like I have my holy grail! The bottles are also aluminum and easy to recycle!
Feedback
I often feel like a use-guide would be helpful - particularly for products like the air dry cream.
---
I purchased the air dry cream. I wanted to love this product because I love JVN and it had received many positive reviews. I've used this on my hair 5 or 6 times now and have to say I am not impressed with the results. It does not tame my frizz or give me body. My hair actually looks limper after use. It does smell really nice and leaves my hair feeling soft.
---
The Air Dry Cream works SO well on my wavy hair- I get out of the shower, tie my hair up in a microfiber towel, and scrunch this in. My hair has a nice hold and it's not crispy with this product, and it also smells DELISH. Only downside is the price- for double the price of the Pacifica curl cream (my second fave), I'm not sure it's 100% worth it, but I still do like it a lot!
---
All I've tried is the Air Dry Cream and it is as good as everyone says! The smell is so good yet not overwhelming that I always get compliments when I use it. Packaging is beautiful enough to keep on the countertops of any bathroom.
---