Dr.Jart+
Dr Jart+ sells a range of skincare products inspired by Korean beauty techniques.
www.drjart.co.uk
Average rating from 173 users
91%Recommend to a friend
Dr.Jart+ Reviews
All

173
Tiger Grass Color Correcting Treatment

11
Cicapair

8
Ceramidin

7
facemask

7
Tigers Grass

5
Review highlights
Effective
Unique
Promise-keeping
Expensive
Reformulated
Can be duped
The tiger grass calming mask is a must own for face mask enthusiasts. Highest possible recommendation.
Tigers Grass
Cicapair
facemask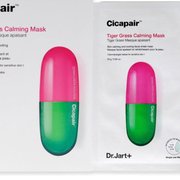 ---
The tiger grass correcting treatment separated after a month. I didn't love the product. Better alternatives out there
Tiger Grass Color Correcting Treatment
---
---
Great stuff - love the calming tigergrass products and the hydrating rubber mask especially.
Tigers Grass
Tiger Grass Color Correcting Treatment
Cicapair
Ceramidin
facemask
---
What is Thingtesting?
Thingtesting is an unbiased place to research and review internet-born brands — because honest reviews help us all shop better. Learn more.
---
I'm a big fan of their masks – I usually can't tell if a mask is doing anything but they really are very hydrating. You can often find them on sale in various places so I usually stock up when I see the price drop. The Tiger grass Color Correcting Treatment is great for days where my skin is a little red (e.g. super cold days). I can noticeably tell that it is cancelling some of the red.
Tiger Grass Color Correcting Treatment
facemask
---
I can't help but feel like theyre overpriced, but when I use their stuff on sale, theyre great! Theyre well formulated and rarely irritating. The Brightening face mask is one of the most effective sheet masks ive used.
Tigers Grass
Ceramidin
facemask
---
There products are very effective and use ingredients that are not as common in the US skincare market. However, you can find better and/or cheaper alternatives to all their products if you buy Korean Skincare through like Etudeyoung
Tiger Grass Color Correcting Treatment
Cicapair
Ceramidin
facemask
---
Dr. Jart is great, but unnecessarily expensive. Anything they make can be pretty closely duped by a cheaper alternative that's equally as effective, at least for me. I do love their packaging though, it's so fun, especially the masks!
---
I only tried a smaller sample of the sort of color correcting with built in spf - I think it was cicapair. I really liked the texture, consistency, and results. It goes on sort of creamy green and then blends in really nicely. I do have other brands that I trust more, but would still recommend to someone who wants to try something new
---
I've been using Dr. Jart+ for about 8 years. I first discovered the brand in Hong Kong, and loved their products instantly. My favorite products include; their sunscreen and any of their face masks. You can never go wrong with any of their products, so don't be scared to explore what they have to offer!
Cicapair
Ceramidin
facemask
---
My daughter bought me the half-ounce jar of this product, and it is life-changing. I have suffered with red cheeks all of my life, to the point where people would ask me if I have a fever or am I not feeling well. It is inherited, as all of my father's side of the family also have these Irish ruddy cheeks. Makeup sometimes covers it, especially if if is a full-coverage makeup, but sometimes I don't want to wear makeup. When I first tried this mint-green cream, I was very skeptical. It has a medicinal smell, and I was worried about the color-changing properties. My skin is extremely fair, and "light" BB or CC creams are always too orange or too beige for my skintone. This cream is a miracle in a jar. It changes to my exact skin tone. It is matte, so I don't have to put anything else on top of it if I don't want to. It is such a high SPF that my face is the only part of me that doesn't burn when I am on vacation in the Caribbean. I LOVE THIS STUFF - except that the large jar is running at $32 per ounce. (OUCH!) I try to use it sparingly, even though it is recommended to layer it over really red areas. I wish that there was a subscription option to get it at a reduced price, or some sort of loyalty program to provide an incentive for customers to continue buying it. There isn't a competitive product out on the market yet that can do what this cream does.
Tiger Grass Color Correcting Treatment
Cicapair
---