Returns aren't sustainable, so how are brands working towards a solution?
Returns for items bought online are costly for the environment and brands themselves. How are companies innovating around returns?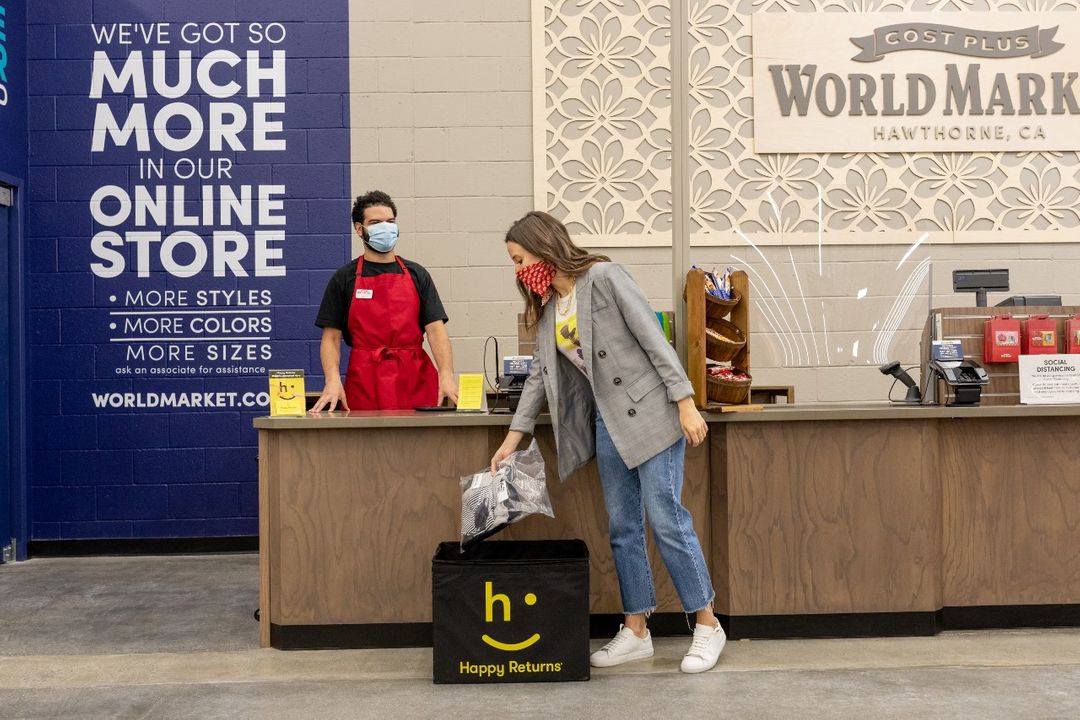 For much of 2020, the only way to try on clothes was to order a bunch of different sizes online and return the ones that didn't fit.
According to the National Retail Federation, an estimated $428 billion-worth of products were returned to retailers last year, with online returns more than doubling year-over-year.
The problem around returns creates additional costs for the brands themselves. They often pay for items to be shipped back and then spend time physically inspecting returns to determine if they can be sold again. For one, in 2018, fast-fashion brand Revolve generated $499 million in sales, but spent a total of $531 million on returns (taking into account processing costs plus lost sales) per Vogue Business.
Returns also come with a steep environmental cost. Optoro, a reverse logistics software company, says that returning products to e-commerce brands can result in up to 14% more waste compared to items that are taken back to a brick-and-mortar store. In the U.S. shipping returned items emits over 16 million tons of carbon dioxide each year.
"That's just from the transportation," says Optoro's sustainability director Meagan Knowlton. "So much of a product's environmental [impact] comes from sourcing and manufacturing. So if that product gets used once – or maybe doesn't even get used – then you're wasting all of those resources."
What happens to products when they're returned?
Fashion and footwear that are returned in good condition have a decent chance of ending up in the hands of another consumer.
According to David Sobie, the founder of reverse logistics company Happy Returns, this use case applies to about 95% of the products his business handles. But the process of getting that product to what will, hopefully, be its forever home is complicated. After it's shipped back to the brand's warehouse, items have to be manually inspected for wear and tear. If they're good enough to sell again, a team member then needs to spend time lint rolling, re-folding, and even dry-cleaning the product.
This process can take a long time while the clock counts down the number of days the product is still in season, and is therefore most likely to be resold. "There's a cost-benefit analysis," Sobie says. "Is the value of this item sufficient enough to expend the money to [refurbish] it? A $40 t-shirt, probably not. But a $300 dress? Sure."
For items that are past their sell-by date – such as swimsuits at the end of the summer, or items carrying old branding – liquidators like TJ Maxx are on hand to buy up unwanted stuff and sell it on at a discount. If the item is made from recyclable materials, it can be ripped apart and turned into something new.
The ROI of returns
When the cost of processing a return can't be justified by the brand, they turn to other methods.
Some companies do what's called "returnless refunds", where the money (or a large percent of it) is handed back, but the customer is told not to worry about making a trip to the post office. Amazon is one of the best-known proponents of this method. According to Sobie, it has a sophisticated algorithm that can figure out what is and isn't worth getting returned. In 2019, returns platform Returnly introduced "Green Returns," where items that can't be reused (such as underwear or beauty products) are refunded without the item needing to be sent back.
In a press release at the time Returnly – which counts period pants brand Thinx and athleisure company Outdoor Voices among its customers – said it hoped the initiative would cut down on the amount of waste that ends up in landfills. Others argue that such policies simply push the waste problem onto consumers, who aren't necessarily going to have a better way to get rid of the unwanted item.
As a category, direct-to-consumer mattress companies have a unique approach to returns. When the bed-in-a-box brands flooded the market with their quick checkouts and super-generous return policies - allowing consumers 100 days or more to try out a mattress - question marks were raised over what exactly was going to happen to all those unwanted mattresses that can't be resold.
Many of the companies are able to make bold claims around this predicament. In response to requests for comment from Thingtesting, Eve said 100% of its mattresses are diverted away from landfill (which it achieves by getting a third party called The Furniture Recycling Group to go and pick them up), Tuft & Needle said 93% of its mattresses are donated (it works with 291 charities across the U.S. for distribution, and Helix said that all of its mattresses are "either donated or picked up by removal partners who try to recycle, if possible." The company said "the majority" are donated, but did not provide specific figures. Eight Sleep told us that 32% of its mattresses are donated, 28% recycled and the remaining 40% are disposed of.
For items that can't be recycled, donated, or resold – as was the case for 5 billion pounds of returned goods in 2019 – it's off to the landfill.
Returns-as-a-Service
Alongside the rise of direct-to-consumer brands, a number of companies have popped up promising to make returns an easier – and cleaner – process for brands and customers alike.
Platforms like Optoro and Happy Returns provide software-as-a-service solutions that help brands decide what should happen to returned products – from restocking the items on the virtual shelves to selling them to liquidators. Happy Returns has also set up over 2,500 "return bars" across the U.S., inside malls, stores and FedEx offices, where customers can drop items off so returns can be consolidated.
"When it comes to digitally native brands, most of them are mission-driven, but returns often get overlooked as part of the messaging," says Optoro's Knowlton. "The industry is moving towards finding better ways to handle returns and keep them out of landfills, especially the more we learn about the circular economy."
Marketplaces with returns in mind are also beginning to emerge. Olive, launched in February, lets users compile purchases from different retailers so they can be sent in a reusable tote, which is picked up (along with any returned items) with their next order. The model echoes the likes of rental services Rent the Runway and Nuuly, who also deliver items in reusable totes.
Meanwhile e-commerce platform Aura, which is set to launch later this year, says its plan is to convince its brand partners (which so far include the likes of Nike, Adidas, and Gucci) to allow it to donate any items that can't be resold, rather than dispose of them. The startup is also experimenting with selling used garments at a 25-30% "open box" discount, via its closed beta.
"A lot of brands, especially higher-end brands, don't want to distribute their clothes to either second-hand stores or discount stores," says Aura's cofounder Stedman Cleveland. "They would rather find an alternative route that doesn't diminish the brand image."
Cutting the return rate
An obvious way to decrease the amount of waste associated with returns would be to reduce the amount of returns made in the first place.
This solution is easier said than done, Sobie argues. So long as people are shopping online, the problem of trying on clothing remains. According to Wair, a tech company that creates "fit optimization" software for online retailers, 50% of clothing is returned due to problems with fit.
"Reducing the rate of returns is a harder problem than reducing the cost of them," he says. "I've been a men's 10 in shoes my whole life. But if you went to my closet you'd find nines and elevens. Is it because my foot has changed? No, it's because when things are sourced globally, a 10 is not [always] a 10. It's hard for a consumer when that is the reality."
In some categories, this issue around good-fitting garments is already being tackled out of necessity. Online swimwear is one category where the virtual fitting process is being fine-tuned, while underwear brands like Savage X Fenty and Nudea walk customers through how to measure their bra-size before buying.
Fit guides are just one tactic for reducing the number of returns. "For brands online, it's about having better product descriptions, a whole bunch of images to show color and size on different models, lots of reviews from consumers," Knowlton says, adding that there is one simple – but effective – question brands can ask customers that are returning things: why?
Thingtesting is a database of internet-born brands. We're building the un-sponsored corner of the internet where consumers can come together to talk honestly about new things. Read more about Thingtesting.
Create a free account so you can make your own lists, whether that's because you love them or because you want to try them.
Feedback? Yes, please.