Average rating from 56 users
West Elm Reviews
All
Melbourne Sofa

1
Chandelier

1
Bathroom lights

1
Bedside Table Lamp

1
Nice designs but poor quality and poor materials.
---
If I was rich, I'd be fully furnishing my house with West Elm! Love the design and feel of their products.
---
---
Not cheap but the lighting fixtures are nice. We have a couple of items from West Elm. The lighting fixtures are comparable to more expensive ones and we consider these as investments for 10 years or so. Probably after that, the trend would be changed.
Chandelier
Bathroom lights
Bedside Table Lamp
---
What is Thingtesting?
Thingtesting is an unbiased place to research and review internet-born brands — because honest reviews help us all shop better. Learn more.
---
I searched for a new couch for over a year and kept going back to west elm. Looking at the quality of construction and materials it was the best bang for my buck and it's not made in CHINA! I love the fact I got to pick my own fabric and size. Only downsize was not made in Canada! It took 3 months from time I paid and delivery to my door. I think my dog loves the couch more than I.
---
AWFUl unprofessional Customer (NON) Service. Bought expensive (not large Roar and Rabbit) chair. Paid for White Glove Delivery (with additional surprise charges added on), totalling a very hefty $174, before tax! Building requires Insurance Certification (COI) before delivery. Regular Fax # of my management co was down - I CALLED WEST ELM many times, WROTE emails many times to THEIR Delivery Service, gave alternate email AND fax & asked Delivery Service TO BRING COI with them. They guaranteed email / fax and said they never carry COI. I asked them to email ME, they would not. They sent COI to wrong #, did not bring copy. I, with a bad back and of good age, had to pay my building to carry giant box up, and I myself had to unpack and assemble the chair. I called West Elm - "WE don't refund for delivery", no matter White Collar didn't happen. They suddenly HUNG UP up on me, transferred me to what turned out to be wrong # in shipping dept. I went through whole story AGAIN. I was given yet another new #, told me to be sure to push 2 or I'd be sent back. NO ANSWER, and after 25 rings or so, I was cut me off. IThis is a SCAM overpriced operation, w/o even respectful treatment of its customers. I counted on the pedigree of the brand and its ownership. Shop ELSEWHERE!
---
My experience with West Elm has been nothing short of a customer service nightmare. I ordered a sofa in November 2022, with the promise of delivery by March 2023. When it finally arrived, it was damaged. West Elm agreed to exchange it, but that's when the real ordeal began. Months passed with no updates, and when I inquired, they claimed the sofa was suddenly unavailable, even though it was still for sale online. Countless hours were wasted on the phone trying to resolve this issue, only for them to cancel my replacement order on August 17th without any explanation. What's even more infuriating is that I've been a loyal customer, having spent over $10,000 at West Elm in the past three years. This lack of consideration and disregard for a loyal customer's time and money is appalling. West Elm's inability to fulfill their promises and handle customer issues with competence and fairness is inexcusable. I would strongly caution anyone against doing business with this company.
---
I love everything I've bought here! I do try to shop the sales because it can get a bit pricy. My couch is green velvet and has held up beautifully in a hectic dog-filled home!
---
West Elm's products are beautiful, simple, and sleek; however, they are really overpriced for what they are. There are a lot of brands out there right now that offer similar looking pieces at a similar quality for less money.
---
We have a bunch of West Elm products, but I'm basing my rating on the furniture. We have a bed frame, dining table and chairs, coffee table, couch, and credenza from them — all wood items. We bought these during a Memorial Day sale and had extra percentage off after opening a West Elm credit card. I don't think I'd buy these items full price as the quality doesn't warrant that high of a price. However, the design of our furniture pieces is exactly what I was looking for—mid-century modern, simple, and classic. We've moved three times and had these items for 4 years, and so far everything is holding up. I'm hoping they last for at least 10-15 years! There's definitely other furniture retailers that have similar items at a cheaper price, so I don't think West Elm is the only choice. It is very convenient if mid-century modern is your style—they have some of the best looking products out there. Just not worth the full price, in my opinion.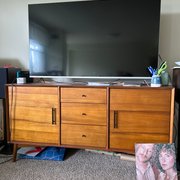 ---
Bought a number of items over time: rugs: chairs, shelf. Very clean lines and well made. Sort of west you go to when you've outgrown all the ikea.
Feedback
Lasted so long, eventually my West Elm furniture was passed onto my kids when they moved out.
---