West Elm
West Elm offers a wide variety of modern furniture, decor, and accessories.
www.westelm.com
Average rating from 67 users
75%Recommend to a friend
West Elm Reviews
All

67
Melbourne Sofa

1
emilia console unit

1
Dining room table

1
Bedside chest

1
bath mat

1
pouf

1
Coffee table

1
Lots of MDF and particle board n the mix, but West Elm produces pieces that continue to look good for years after you buy them, and they're good quality. The pieces only don't look good when they are styled exactly as they are on the showroom/in the catalogue, in which instance they look soulless.
---
Decent quality. Not cheap. Attractive. Basics and more on-trend. I've bought rugs, pillows/decor, marble-topped wood pieces, entertainment center. They don't always keep the lines so if you buy an entertainment center and later want the matching bookcase, it may not be available.
---
---
Hit and miss. I love their linen sheets, and have a floor lamp and some kitchen canisters that are absolutely gorgeous. I had an awful experience with a lounge chair that started to break down a couple of years ago, and even though only a little over a month had gone by since purchase, they wouldn't issue a refund. So I'd say beware with anything upholstered.
---
What is Thingtesting?
Thingtesting is an unbiased place to research and review internet-born brands — because honest reviews help us all shop better. Learn more.
---
I honestly think West Elm has medium quality for the price. Some things are great and others are terrible. It's hit or miss. I have a bath mat that's good but then I got a pouf and it's terrible. I think there are better options out there.
---
I was just talking about West Elm with a friend. I've always loved their streamlined and minimalist look. Had a few things from them in the early 2000s but feel like I've aged out of the brand a bit. Still, pretty and high-quality goods for the people!
---
I bought a beautiful West Elm coffee table with a brass base and a Carrara marble top. Less than two years later, the edges of the top of the table are breaking off. This allowed me to discover that the top is not solid marble, but a composite material covered with a very thin marble veneer. This table was not advertised as "marble veneer." With very light use, it is breaking apart. Of course there is no warranty, and of course I cannot leave a review on their website to warn others. Buyer beware…cheaply made furniture with a high price tag!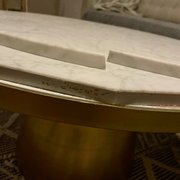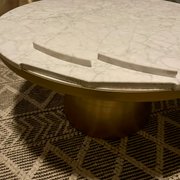 ---
No, I do not recommend, awful products quality, awful customer support. I am very frustrated with the quality of their products. I ordered the rugs from them more than a year ago. Two expensive rugs called "hand loomed shine rugs". It is written in description of these rugs that shedding is expected for 3-6 months and then will diminish. I vacuum it 2 times a week as recommended (different directions, very thoroughly etc) for more than a year already. However, the shedding hasn't been diminished. At all. It sheds the same level as it was shedding a year ago when we bought it. No improvements at all. It sheds like crazy. These 2 rugs are in my daughters room. She even depeloped the severe allergy because of these rugs that shed contstantly. I owned many wool rugs in my life and I know that shedding is expected, but none of then shed as those ones. How comes that Westelm sells such low quality products. Seems they do not have quality control department at all. Even Ikea products (that are much cheaper) are of much better quality. How comes that they declare on the website that the shedding will diminish, but it never does. They publish fake information on their website. It is also impossible to leave reviews on products on their website to let other people know about low quality and disrespect. I understand now why they do not have reviews option: their products are of such a low quality, so that they do not want people to share their experience. The only thing I can do now is to throw these rugs to trash and thus throw almost 2000$ to trash that I spent on these expensive rugs. I contacted them several times regarding this issue, they said that they will forward this information to their management and they will contact me. They never contacted me back, 2 months passed.
---
I love everything I've bought here! I do try to shop the sales because it can get a bit pricy. My couch is green velvet and has held up beautifully in a hectic dog-filled home!
---
Nice designs but poor quality and poor materials.
---
West Elm's products are beautiful, simple, and sleek; however, they are really overpriced for what they are. There are a lot of brands out there right now that offer similar looking pieces at a similar quality for less money.
---