Average rating from 308 users
My wife is obsessed. It was love at first bite for her. This has been her new favorite hot sauce ever since she tried it a couple years back.
---
I really really wanted to like this product. I love both hot sauce and truffle so it was a win win for me. However something about the taste is just not there. I'm not sure if it's the flavor of the spice or the truffle being overpowering, but I finally got rid of my almost full bottle. Maybe the oil or pasta sauce would be better and I'll consider giving it a try, just the hot sauce is peculiar.
---
---
Simply saucetastic. Im gonna rock this in multiple skus. Its da bomb. I put it on pizza. PIZZAAAAAAAH
---
What is Thingtesting?
Thingtesting is an unbiased place to research and review internet-born brands — because honest reviews help us all shop better. Learn more.
---
Have tried a variety of Truff's products and while they're tasty, pair great with certain things, and have great packaging, I don't think the price point is a lil too steep.
---
I was successfully "influenced" and just spent $35 on a bottle of white truffle hot sauce. I've never sighed so hard while using tap to pay. Honest take--it's a little too sweet for me. It's not overwhelmingly sugary, but I just don't love sweet hot sauces. The truffle taste is definitely there, which is absolutely wonderful and the saving grace of this product. However, I probably wouldn't buy it again even if it was cheaper. With that said, you best bet I'm going to make this last and I'll happily savor every last drop in this bottle. It looks pretty in my fridge and I will be getting my money's worth.
---
I loveeee the taste of these sauces. They are just way too expensive for what they are!
---
Truffle flavor is literally non existent, and it smells so artificial. I wish it lived up to the hype. It's spicy, but mainly because of the thick peppery base that they use- reminded me of thick tomato sauce, not vinegary hot sauce. Truly not swayed by branding and truffle feature. I can see how other people enjoy it, but it's not for me.
---
I'm absolutely obsessed with this spice bottle called Truff! I have the travel-sized version and it's my constant companion wherever I go. You know, sometimes you come across places that just don't know how to properly spice up their food. That's when I whip out my Truff and take matters into my own hands, and let me tell you, it's a game-changer! The flavor and texture it adds are simply unparalleled. It's like the perfect seasoning in a bottle. Perfection in every bite!
---
Truffle Oil is sooooo good and our go to for those evenings we want to jazz up dinner. I mean, makes you feel like you're at Petite Trois for sure!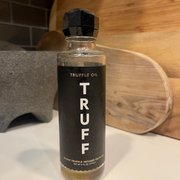 ---
I love the elevated packaging to the brand and that is what first caught my eye. I am not much of a hot sauce girl, but love truffles. Their classic hot sauce is a staple in my fridge. I will say I tried their pasta sauce and hated it. But otherwise I can't live without this hot sauce.
---