The Qi
The Qi makes whole flower teas inspired by Eastern holistic healing wisdom.
the-qi.com
Average rating from 7 users
83%Recommend to a friend
The Qi Reviews
All

7
Floral Tasting Collection - Rose, Lotus, Chrysanthemum

1
It's a fun tea to highlight when entertaining as its definitely unique - the flavor profiles aren't as complex as more traditional blended teas though.
---
I absolutely love love love their rose teas
---
---
A totally unique offering, the flowers are large, beautiful, and strong. Often times flower teas come crushed and stale, the way theses are packaged is unlike anything else because the flowers stay whole and intact, you know you are getting the whole flower and not a bunch of stems of leftovers, and the individual packaging keeps them fresh. The best flower tea brand!
Floral Tasting Collection - Rose, Lotus, Chrysanthemum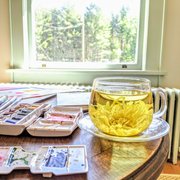 ---
What is Thingtesting?
Thingtesting is an unbiased place to research and review internet-born brands — because honest reviews help us all shop better. Learn more.
---
Really lovely tea. At first I was skeptical because each pack of teabag comes with only one dried flower but it actually taste amazing! I love the rose one especially. It just feels really natural (not like the fake artificial flavouring).
Feedback
can replace the plastic individual packaging with something more eco-friendly!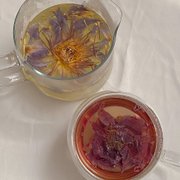 ---
Great taste and experience. Beautiful packaging and love the blooming flower in this tea. Really adds a nice experience to your tea ritual.
---
Really nice tea, got it as a gift from my friend and we really enjoy it.
---
short story: not worth the price, no taste, rude customer service conclusion: waste of money. next time i stick to Kusmi tea Long story: I went to union square with my friend. we stumbled into this little booth selling flowers tea. the lady who sold us the tea showed us the beautiful blossoming flowers in their cups and their cute tint on the water. we purchased one pack each.the next day I tried the alleged flower tea. what a disappointment . I posted the story on IG showing that after pouring hot water on the flower, nothing happened. guess what the business answered: "next time think of pouring hot water on it". so they basically assumed that we were slow and didn't know we had to use hot water. they also stated that they knew their flowers are broken and that it was an issue they were dealing with. of course, they forgot to mention the issue when they sold us the flowers . anyway after a lengthy back and forth with the business owner , she asks us to send the receipt for an eventual refund. I personally sent her a full screenshot of the transaction from my bank statement to which she replied that she couldn't find the transaction implying the purchase never happened . obviously avoiding to provide any kind of refund, she asked to go back to the booth at union square ( I live in Sagaponack) to eventually get a refund. Cherry on top of the cake she even asked to bring back the flowers she knows we used and the shopping bag claiming it costs $15. OMG! RIDICULOUS. ALL THAT FOR $13!!! never again. i love small businesses and I support them all the time but now i understand why certain small businesses remain small for life. Cheating people for $13 is a shame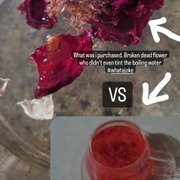 ---