SuperMush
Supermush combines functional mushrooms and superfoods into on-the-go daily mouth sprays, mints, and gummies that focus on energy, immunity, and relaxation.
supermush.com
Average rating from 16 users
93%Recommend to a friend
SuperMush Reviews
All

16
Daily Energy Gummies

1
I was excited to try SuperMush's daily energy gummies. I was skeptical of how good they'd taste but was pleasantly surprised. I'm not a huge lover of "orange flavored" things but the tangerine crush is delicious and not overpowering. There is no weird after taste which is also something I expected. The energy gummy provided me with the energy to get up and actually DO THINGS- something I sometimes struggle with. There's no caffeine & I only felt like I needed two gummies at the start of my day to get me through my 12 hour shifts at work. I definitely noticed a difference in my mood and energy level when I'd forget to take them. I didn't experience any jitters or trouble sleeping Truly, just a natural feeling of energy. The packaging is adorable & I plan to re-purpose it for something else now that I've finished the 30-day supply. I'm kicking myself for not re-purchasing before I ran out.
---
always on the hunt for something functional with mushrooms and this was my top pick! I spotted this brand at Erewhon and found it incredible that it has options for spray and mints. I definitely noticed a difference when I used the calm spray. Excited to get more and support a growing brand.
---
---
The results are smooth and don't alter you much but they definitely relax you. Altough not my favorite flavor.
---
What is Thingtesting?
Thingtesting is an unbiased place to research and review internet-born brands — because honest reviews help us all shop better. Learn more.
---
I love the concept and am a big believer in the power of mushrooms. The flavor profiles are delightful, and I really appreciate the additional samples they included in the order (that really helped me narrow down which ones I'd like to order in the future). I was a little worried about how some of the flavors would come out, so the samples helped me make decisions.
Feedback
Some of them taste pretty bitter on the tongue! In that case, the flavors don't do a whole lot to mask that. So it can be a bit unpleasant.
---
I picked up am Immunity spray as part of a #thingdrop and was delighted by the package I received, with stickers and samples of the other two sprays, which I really appreciated. I've been playing around with "functional" shrooms the last few months, and honestly I can't tell how effective they are? The Immunity spray tastes fine and seem reasonable to use during a pandemic.
Feedback
The tastes of the Chill and Energy sprays are not as pleasant as the Immunity.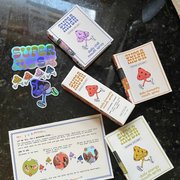 ---
This is my first experience with mushroom supplements, and I was curious to see what effect they would have on me. When I finally got the package in the mail, I absolutely loved all the details that went into the packaging- not only on the products themselves but also even the cardboard box. I was very happy to open the box to see that there was much more included than I was expecting! I received not only my Daily Chill spray but also some stickers and three more sprays in a sampler size (one of each flavor). This was awesome since it now meant I was able to try all three. The packaging for the three mini sprays was so cute and the attention to detail was amazing. I chose to buy the Daily Chill spray since I feel like it could help me when I'm anxious (which is often), and I would have picked the Daily Energy spray, but I saw it had orange peel in it, which scared me off since I really do not like the taste of citrus and especially orange. However, after trying all three sprays, I wish I would've picked any of them besides the Daily Chill! It was simply way too bitter for my taste and I struggled to even do the four sprays on my tongue that the instructions said to do. Perhaps the more I use the spray the better I will get at handling it. I think the Daily Immunity spray had the best flavor, and I found that I was actually able to tolerate the Daily Energy flavor well. Also, I think I felt a bit less tired after the Daily Energy spray, so maybe it actually worked. Overall, I had a good first experience with these and if you are looking for a mushroom supplement, I think this is a good choice.
Feedback
Work on making the daily chill spray less bitter.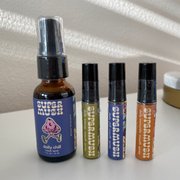 ---
Super fun packaging- ordered just one version and got samples of all four! A little bitter on the tongue, but the flavors come through, and it's a fun experience to use overall.
Feedback
Taste is somewhat bitter.
---
I ordered the immunity spray and I've added it to my daily supplement lineup. I love that I'm getting so many immunity-boosting nutrients without needing to take yet another pill. The unboxing experience was second to none! It came with samples of the other formulas and super fun stickers. Loved trying the "chill" spray to wind down before bed so much that I'll be adding it to my re-order. Taking away one star because I have issues with the sprayer every few times I use it.
---
I've tried a few mushroom tinctures and couldn't add them to my wellness routine because of the abrasive, burning taste. SuperMush changed that! I have all three sprays (Immunity, Chill, and Energy) and absolutely love them. They are delicious. While I haven't totally ridden myself of my morning coffee I can happily say that SuperMush energy has decreased my coffee consumption from 2-3 cups a day to 1 in the morning. It gives me the perfect boost of energy in the afternoon. My work can be very stressful which used to impact my sleep, and I've found that spraying SuperMush chill at night really helps me unwind and calm my thoughts before bed. Lastly, branding/packaging is A+
Feedback
I'd love to see more products! I love my SuperMush blue sweat set (so comfortable) and would definitely purchase a neutral tone.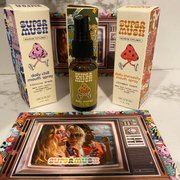 ---
Dont know if they work but it is the only thing my daughter will actually let me give her if I feel shes getting sick, also add the cinnamon one to my coffee. I do think its a little pricey but will buy ever few months
Feedback
capsules would be great
---