Sunday Citizen
Sunday Citizen sells soft washable bedding, home, wellness, and lounge products.
sundaycitizen.co
Average rating from 4 users
67%Recommend to a friend
A lot of bedding players out there and somehow SC stands out - high quality through and through
---
i purchased 3 items: the "snug throw" in cloud grey & 2 "snug pillows" clear white & coal. shipping was fast & i opened the throw & love it. its very similar to throw by "bareft dream" slightly less expensive. i put it through the wash as anything touching me or my furniture must be able to launder. came out good though dont think would try washing every wk or even every other wk. the 2 pillows were bit different story. maybe my fault but i didn't realize they were memory foam (they're pretty small 20 x 20) & came vacuum sealed to save packing space my guess? white was vac seal, coal was not. didnt think much until took cover off coal to launder & huge divot rite middle of the pillow. i tried shifting foam but wasnt helping. clearly shape of someones head before me, had used & returned. gross! so that was reason wasnt vak seal. not sure why wasnt obvious during boxing that 1 wasnt vac sealed so obviously should have checked it? i looked on the website & they have a trial pd for pillows able do (think was 90 day but quote me) & no like ship back for return your money… which is a nice feature… unless you were on my end in this case. i contacted cust serv & thankfully had saved the huge box so able return. i didnt replace, just ask refund. like the throw they are super soft
Feedback
the throw doesn't seem super durable. i wouldn't let kids use or drag around an airport (yik, i never drag pillow or blanket around airport but i see enough ppl do so thought mention) as every time i fold back up after using to hang back of couch always little piece of blanket on couch. not shedding but little piece almost like very thick string. the pillows are just ok. as the used pillow i returned had a huge "head" hole right in the middle, my pillows are also starting to shape my head & only been use 3month & not frequently. pretty pricey but i'm a sucker for anything fleecy, soft, snuggley (dont think thats a word), warm etc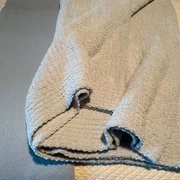 ---
---
I own a robe and throw from Sunday Citizen that I received through a luxury lifestyle box subscription. I'd never heard of "SC" prior to my subscription. So far, I'm loving both items! They are truly soft and comfy... And they feel so luxe. The robe might be my favorite because I can throw it on and walk around the house in comfort. I'll be looking into more items soon.
---
What is Thingtesting?
Thingtesting is an unbiased place to research and review internet-born brands — because honest reviews help us all shop better. Learn more.
---
I bought the snug stitch comforter in Sage and its beautiful as well as cozy. The unboxing experience is fabulous and there is a 90 day guarantee. Each side of the blanket is different and the underside cools while the top is sort of fluffy and warm.
---