Average rating from 49 users
96%Recommend to a friend
Mrs. Meyers Clean Day Reviews
All

49
Hand Soap

8
Dish Soap

5
Mutli Surface Everyday Cleaner

4
Room Freshener

1
Good products - make sure to choose a scent which is not cloying. The basil and lavender scents can be quite heavy, whereas peony is much lighter and more elegant.
---
I'm currently loving their seasonal snowdrop dish soap and iowa pine multipurpose cleaning spray. I wish they made refills, even for the seasonal items as they bring them back year after year and even if they didn't, I want to be able to reuse bottles; I don't care if I have a matching bottle.
Mutli Surface Everyday Cleaner
Dish Soap
---
---
Every product I've tried so far smells wonderful without having a harsh artificial smell! I look forward to trying more of their products!
Mutli Surface Everyday Cleaner
Hand Soap
---
What is Thingtesting?
Thingtesting is an unbiased place to research and review internet-born brands — because honest reviews help us all shop better. Learn more.
---
Friends with Mrs. Meyers Clean Day
Love the retro packaging and the great scents. I am a fool for products that smell great and Mrs. Meyers delivers every time. The packaging makes me nostalgic for an era that existed before I was born.
Mutli Surface Everyday Cleaner
Dish Soap
Hand Soap
---
I love Mrs. Meyers because I can trust the products to use healthy ingredients and materials, work really well, and in general smell great. I use their products all around my house, I'm especially fond of their hand soaps and have gone through a ton of different scents over the years! My most used product is the multi surface cleaner, which is my go to all around my house whenever I need to clean, it's the cleaner I always start with and it gets nearly every job done!
Mutli Surface Everyday Cleaner
Hand Soap
---
I love their scented soaps!! The dish soap works great & doesn't dry out my hands like some other brands do.
---
A Target mainstay, I feel like their stuff is always a good bet no matter what kind of cleaning product you may need - everything from kitchen cleaners to bathroom necessities. I feel like I know someone is a fellow Targét conossieur when I see this in their bathroom.
---
The basil scent is my absolute fav. Very big fan of the dish soap and hand soap, and the bottle looks so cute on my countertop.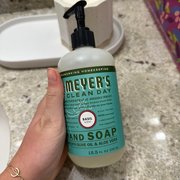 ---
I have used Mrs. Meyers products for a few years now. I really like the hand soap (Peony Scent is my favorite) and the everything spray is also really versatile. I don't know how "Clean" they are in terms of their ingredients or packaging as they advertise. I would choose this option over others.
---
I would live in a bottle of Iowa Pine if I could! Really great stuff that's always priced well. I'm not sure what exactly makes it stand out, but it's a solid buy!
---