Meati
Meati produces high-quality, unprocessed, nutritious meat made from mushrooms.
meati.com
Average rating from 10 users
67%Recommend to a friend
I tried their chicken at a restaurant first and was very impressed - it tasted great! I love the ingredients as well - it's nice to have a meat replacement not made of soy or gluten and I love mushrooms so I was very excited. Then I tried one of their steaks at home and it was an absolute no for me. It tasted like tuna for some reason and maybe I just cooked it wrong but I was not impressed
---
I haven't had a chance to try the carne asada steaks which I hear are best - but I did get my hands on the steak and crispy chicken versions. It's different and unique which I love! And I love love love the fact that they are gluten free. My partner has celiac and is already on the fence about meat alternatives and this seems like a good way for her to give them a go. I will say though after tasting them I wouldn't say this product stacks up great as a meat replacement. The texture is off and I find other brands a bit more "close" to the real thing. But they were fun to cook with! It doesn't taste like meat so don't go looking for that here (at least with these versions) but they look the part which is nice and the nutrition information is great and super clean.
---
---
I was super excited to try the carne asada steak. Texture and look was great while cooking and the pull away texture when cutting into the steak was impressive. But the taste was not good and it was both mushy and rubbery. I found it difficult to take more than a few bites. Do not recommend!
---
What is Thingtesting?
Thingtesting is an unbiased place to research and review internet-born brands — because honest reviews help us all shop better. Learn more.
---
Great macro nutrient profile, nothing scary in the ingredient list. Tried the carne asada and liked it.
---
I seared it in an iron skillet, cooking for 7 minutes & flipping it a couple times. It was surprisingly meaty, steak-like in both texture & taste! A sprinkle of Worcestershire sauce & some steak sauce on the side were good to round up the flavor.
---
Honestly with these kind of clean ingredients / lack of processing / protein content - I was totally blown away with how good they are! Need to experiment with how to cook them best (I probably didn't use enough oil) but these are awesome. Hope Meati continues to grow :)
---
I'm very intrigued by meati and mycoprotein. I've been following this company's story for a couple of years now so I was pretty excited to try the very first drop of the product! They are making alt protein in fermentation tanks with mycelium - pretty cool, right? I ordered the meati cutlet, which came frozen in a pack of four. It was very easy to cook and browned just like chicken. The pull-away texture of the product is very impressive as it really resembles a chicken breast. On my first bite, I was super impressed. However, as I kept chewing, it was a touch more chewy/rubbery than I would like and there was a bit of a flavor that I didn't love. Overall, it's worth a shot! I think they might be onto something and look forward to seeing their next versions of the product and where a little more food science will take them!
Feedback
I am looking forward to future iterations of the product as I think there is some sensory work they could do to improve the chewing texture and flavor.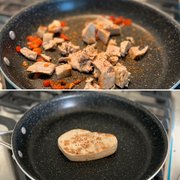 ---
Hey there! While my girlfriend and I were extremely excited to try the carne asada steak.. We unfortunately were met with soggy cardboard texture and it was unsettling for me. That is all.
Feedback
Carne asada flavored soggy cardboard.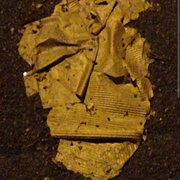 ---
The Meati products needs a good hard seer in a hot pan, then I transfer to the oven to finish. With steak sauce and a side of broccoli the Carne Asada is very evocative of steak. I wouldn't cut up and stir fry - as others have said the product then gets mushy and is more like a mushroom meatloaf
---