Average rating from 12 users
100%
Recommend to a friend
It was absolutely delicious! A subtle flavor that's not too sweet or too carbonated.
---
I personally love all of the flavors. I brought these to a party and a few friends didn't enjoy them much so keep that in mind. I liked them because of their mild flavors and they didn't feel sugary to me at all. I felt like I could drink a couple without being overwhelmed flavor-wise or like I'm consuming a bunch of sugar.
---
---
I tried the Yuzu flavor, and it was sooo good. I like this flavor better than the other because it's not sweet just very citrusy. Gave me a little buzz but was lightweight and tasty. I love that this company is asian american and supports AAPI. Lovely branding and design and a great company to support.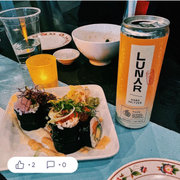 ---
What is Thingtesting?
Thingtesting is an unbiased place to research and review internet-born brands — because honest reviews help us all shop better. Learn more.
---
Absolutely love the concept, story, and everything about this product! Tastes delicious and the packaging is super cute and appealing.
---
Found this at Trader Joes and it was an instant impulse buy. Hard seltzers are usually too artificially sweet, or not sweet enough- and this had a perfect balance. The Yuzu tasted citrusy without being too sweet, and has a touch of tart as well. Packaging is sleek and love what the brand stands for! Excited to try the other flavors.
---
The lychee flavor is so good! They mean it when they say the flavors are asian-inspired—more authentic than stereotypically "oriental".
---
One of my favorite hard seltzer brands out there! The taste is spot on, Lychee is my favorite. There was no alcohol flavor that you may find in a White Claw or Truly hard seltzer. I'll be bringing this to many gatherings this summer.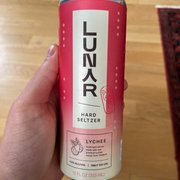 ---
Awesome flavors for a hard seltzer brand. Finally something that feels authentic, delicious, like the creators cared about the drinking experience. Lunar elevates the hard seltzer experience in a big way.
Feedback
got nothing here. kudos to this brand.
---
My favorite Asian-inspired hard seltzer! Love the lychee flavor - it's delicious, light, and fruity without having that metallic aftertaste. I also really love the founders' story and mission to bring more Asian childhood flavors onto shelves. Really like the branding too.
---
Yummy - my mom liked it too!
---