Freestyle Snacks
Freestyle Snacks makes low-calorie olive snack bags using natural spices and olive oil.
www.freestylesnacking.com
Average rating from 16 users
100%Recommend to a friend
I got the hot & spicy green olives on a whim because they were on sale at Whole Foods and I am definitely glad that I did! I was able to use them on a snack plate and in a pasta salad and I am going to for sure get a couple more packs on my next grocery trip!
---
SO GOOD. I could eat these olives forever. They are so easy to take as snacks or keep on-hand to serve with charcuterie. The Lemon Garlic Green Olives are so bright and juicy. I highly recommend those to someone who isn't quite into olives but wants to acquire the taste.
---
---
Fantastic! Obviously, the liquid free packaging makes these olives ideal for snacking... but what really impressed me is just HOW GOOD THEY TASTE!! I especially liked the subtle heat of the hot & spicy flavor. Will be back for more :)
---
What is Thingtesting?
Thingtesting is an unbiased place to research and review internet-born brands — because honest reviews help us all shop better. Learn more.
---
The hot and spicy olives are indeed hot and spicy. They are also tasty and I could eat a whole pack every single day. They are also fantastic for charcuterie boards.
---
Friends with Freestyle Snacks
Delicious!! I love that they aren't in liquid brine and are easily accessible.
---
The only product I have a recurring subscription of is these hot and spicy green olives! I love always having them as a snack alone or to add onto a cheese board or throw in a salad.
---
Friends with Freestyle Snacks
love these! so easy to snack on the go and the flavors are amazing. I bring them on planes, to the office or snack on them at home!
Feedback
Nothing but great things to say. I'm waiting for my castelvetrano olives though!!!
---
Didn't realize how much I needed these in my life! Love that it's not super messy, such a great easy snack! Freestyle Snacks has my heart <3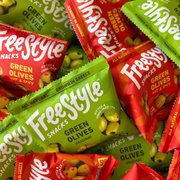 ---
These were some of the best olives I've ever had (and I'm quite picky)! The quality alone was far superior to any I've tried, and the packaging was even better! As a huge snacker always looking for healthy options, these are exactly what I needed- clean ingredients, no mess, easy to take on the go, and save for later! The packaging is also so bright and fun that they make my pantry look beautiful :) Would highly recommend to any healthy snackers like me!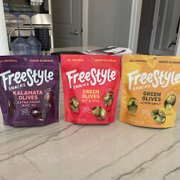 ---
Best tasting olives! So convenient and easy to snack on. I love the branding and that the pouches are resealable.
---