Floom
Floom creates unique and customized flower bouquets with included delivery benefits.
www.floom.com
Average rating from 13 users
85%Recommend to a friend
I received a bouquet from Floom as a gift and I was blown away by the style. It didn't at all look like any of the standard bouquets you order online. It was definitely cool and it lasted a long time. I also just loved the idea of supporting local florists. Definitely would buy myself.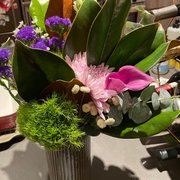 ---
This really feels like a better version of Interflora. Have used Floom multiple times to send flowers to friends in New York, London and LA. Every time the flowers have arrived on-time and in great condition. Fairly pricey, but I love being able to support small florists through Floom. 💐
---
---
My first impression of Floom was in having to cancel my order because the recipient was going to be traveling out of town on the delivery date. Floom customer service was prompt and friendly, and after confirming the florist couldn't reach the second address, refunded my order. Trying again, the flowers arrived at 3pm on the delivery date. They came boxed for protection and with my note hand-written. The flowers themselves were of a nice quality, and both the recipient and I were pleased with the quality. A good experience supporting a local florist through Floom!
Feedback
Some sort of text notification that the flowers were out for delivery might be nice, if feasible, though they ultimately arrived on time.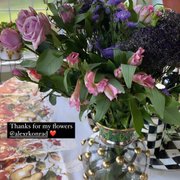 ---
What is Thingtesting?
Thingtesting is an unbiased place to research and review internet-born brands — because honest reviews help us all shop better. Learn more.
---
Loved using Floom. Received Valentine's roses from here and also sent my boyfriend's mother some flowers and they are so unique and beautiful!
Feedback
Expensive compared to other online flower companies, but makes up for it in its support for local florists.
---
I usually send flowers through Bouqs or Urbanstems but somehow both sites were breaking/it wasn't clear whether they'd be able to deliver to my mom's area in Boston so I ended up at Floom and might be a Floom believer now! It was super easy to place the order, the order arrived early in the day, AND they hand-wrote my message onto a little card -- always such a nice touch!! The prices vary a bit more since Floom is pulling products from different florists, but I would say the price was comparable to Bouqs/Urbanstems. Plus I feel good about supporting local florists!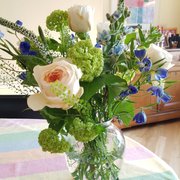 ---
I love Floom! It's my go-to flower delivery platform (I've only used it in the UK, not sure if its elsewhere) and it's always incredibly reliable with a good selection. I've probably sent >30 bouquets from there since I first used it and I've never had a bad experience. I also like that they've onboarded some cool options (lately sent a mini bonsai tree as a housewarming gift, and some cool multicoloured dried flowers as a present to surprise a friend having a bad day - the ones in my picture). Recommend!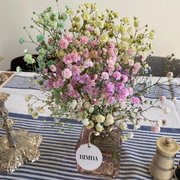 ---
Convenient.
Feedback
Website was down several times I wanted to order.
---
I loved how easy it was to shop for delightful looking blooms. The checkout process was also very intuitive and made shopping for and shipping flowers as gifts simple.
---
AVIOD AT ALL COSTS : Order a bunch of flowers and chocolates to be delivered to my aunt of her birthday. They sent the wrong flowers no chocolates. When I called to inform them of these they required a picture to prove that I was telling the truth. I sent it! And requested a refund. Took multiple calls for them To agrees to process one & up till now i am still waiting for my £66 for a service that I never received! I have had multiple agent low and tell me it has been processed I have spoke to my back who have no records of pending transactions. THESE COMPANY ARE THEVES. you pay for a service they don't provide it and then refused to refund you what you have paid for !
---
SCAM. Ordered same day flower delivery to console a friend on her brother's death. The flowers simply never arrived, with no explanation, update or anything. Customer service said they would investigate but never followed up. Recommend you avoid at all costs.
Feedback
DO NOT order from this brand. Service is a scam and customer support just gaslights and kicks the can down the road.
---