Canopy
Canopy makes a line of reimagined household devices that optimize the home for beauty and wellness.
getcanopy.co
Average rating from 66 users
97%Recommend to a friend
Canopy Reviews
All

66
Filter ShowerHead

27
Bedside Humidifier

15
Aroma Diffuser

4
Humidifier Plus

1
Review highlights
Easy to install
Sleek minimalist design
Dishwasher-friendly cleaning
Small and noisy humidifiers
Weak aroma oils
Difficult showerhead adjustment
So far I've only been able to shower once with it (I assembled it yesterday), but it is beautiful. AND it comes with an essential oil diffuser smell that smells sooooo good. Even if I don't notice a difference in the water, the oil changed the entire smell of my bathroom it is amazing. I am convincing my sister to get me one too.
---
The Canopy shower head has great pressure and it's adjustable. The essential oil it came with smells amazing. There is a huge design flaw with the shower heads filter. It's extremely easy to change the filter, you just push up and it pretty much pops out. It's a horrible flaw if you adjust your shower head to move in another direction. Other than that, it's probably my new favorite.
---
---
This is a review for the bedside humidifier. It's REALLY small, the output does not even last one night. It's pretty loud, I cannot imagine wanting this next to your bed but you can also hear it from the other side of the room. There is an option to add a scenting kit - little pebbles that go on top of the humidifier that you drop scent on - which is a charming idea. But the scents - gak! Like BedBathBeyond level "fake spa".
---
What is Thingtesting?
Thingtesting is an unbiased place to research and review internet-born brands — because honest reviews help us all shop better. Learn more.
---
I have both the humidifier and now, thanks to a Thingdrop deal, the filtered shower head. They're nicely designed products, but I don't think they make a significant impact on your well-being, but that doesn't necessarily mean they're bad. For the humidifier, we wanted something small that would look good beside the bed. Most humidifiers are pretty ugly, so the design and the idea that Canopy had a filter and that the parts were dishwasher safe sold us on it. During a dry winter, it's a nice thing to have, and according to my air quality filter it does increase humidity a little bit. But if you look at Wirecutter reviews, they recommend units that can really make a difference in your indoor air. Canopy is pretty weak in that regard. The filtered shower head is hard to evaluate. We live in NYC, where water quality is generally high, and we live in a new-ish building so we aren't worried about rotten pipes. I didn't really have a complaint about my water before, but I didn't like my shower head, so I figured this would be a good opportunity to replace it with something better, and filtering my shower water couldn't hurt either. It's been a few weeks now, and I appreciate the water pressure and adjustable flow patterns (which were flaws of my existing shower head). It is a fairly large unit, so you may want to measure if the pipe you connect the shower head to is low; the Canopy shower head just barely fits for us. It's a decent-looking thing, but we're renters anyway, so none of our fixtures are particularly note worthy. The packaging was nice. I rarely notice the scent working — that seems like a gimmick. Overall, both products are nice, but neither are necessities and if you don't care about the design, there are almost certainly better-performing options on the market.
Bedside Humidifier
Filter ShowerHead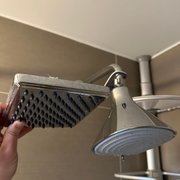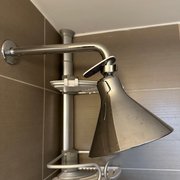 ---
I got the bedside humidifier during a thing drop. It came super fast and seems like good quality. TBH not sure if I would purchase this full price. I've had it for a few days and love the bedtime routine of filling up the tank and adding the aroma oil to wind down at night. Its a nice routine and a lux feeling product!
---
Can I say I love, love, love this shower head! Game changing showers…I don't want to get out. I love the packaging and the oil and scent hangers! I don't smell the scent while I'm showering, but I'm looking forward to figuring it out! 😀 This is absolutely an amazing product all around. I look forward to trying more products from Canopy!
---
i purchased the canopy humidifier in the shade jade during a thingdrop, and have loved it so far. on the low setting, there is almost no noise, but the medium-high range does seem a bit noisy. the scent that came with the humidifer is a pleasant tea blossom bergamot scent, and i like how it is very subtle. it's not meant to be a replacement for a diffuser/candle/wax melt, so the scent is very light. i will say i wish it came with instructions; i was a bit confused on what the parts were in the lower tray. one of my favorite features is the anti-mold technology, i feel like that is my biggest concern with products that run on water. overall, it was a great purchase! i actually was looking at this product last year during the winter because of my dry skin, but couldn't fully commit to the price since reviews were limited. glad i purchased it through the thingdrop, and i would highly recommend others buy it! it's perfect for my one-bedroom apt, but others may need the larger size or several in order to properly humidify (is that the right word?) their homes.
Bedside Humidifier
Aroma Diffuser
---
The biggest selling point to me was the fact that you can clean it in a dishwasher. I've gone through many humidifiers, and I am so terrible and way too lazy to clean them on a regular basis, let alone wait around for a vinegar soak and scrubbin. Love the minimalist design and the bonus little diffuser stone. Their bergamot oil is really nice, and not too overwhelming. Their packaging was very beautifully designed, all eco friendly, and super fun to unbox. Kudos to their packaging team.
---
I wanted to test this a few times before I reviewed. I was very happy with the packaging and presentation. it was very easy to remove my shower head and replace with this one, they even provided tools of necessary. My current shower head was filtered and have been using for 5 years now The Canopy is 100 times better, I could feel the difference just touching the water! My hair has never looked better, the water is soft and wonderful but not too soft that it doesn't rinse properly. It has 3 spray settings and I like them all, it also has some aroma therapy action but I am not sure I have set that up properly or am using enough drops. if you have hard water, chlorinated water, this shower head is a game changer! Love it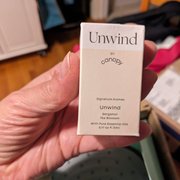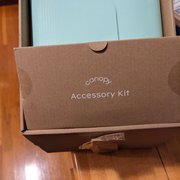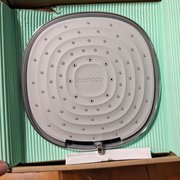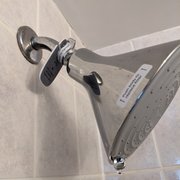 ---
My skin and hair have improved a lot since I switched to the canopy filtered shower head. It has many great features, from the stylish sleek look to the 3 different stream settings. The narrow stream setting is very helpful on wash days, especially when I need to save time or relax my sore muscles after a workout. It gives me the much needed PRESSURE massage my scalp when I'm stressed out or just need a little extra relief before I start my day. Another bonus is the aroma oil that comes with this shower head. It has a wonderful scent that makes my shower time feel more relaxing and luxurious. The only problem I had was with the delivery. My package was opened and repackaged and I didn't get a felt diffuser. But apart from that, I'm very satisfied with the product and how it works and have recommended it to others.
Filter ShowerHead
Aroma Diffuser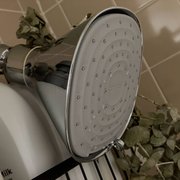 ---