Average rating from 16 users
67%Recommend to a friend
Love their holiday collections, but they do irritate my ears after multiple days of wear.
---
Ordered a bead bracelet, within one minute of placing the order I emailed BaubleBar and asked to change one particular bead to a blank bead. 4 days later they responded with absolutely no help, just refused to make this tiny change in a personalized beaded bracelet. Not an option to change a bead with a + on it to a plain old blank bead. Not a suggestion, No help and no cooperation at all.
---
---
BaubleBar is super solid and has lots of fun styles. The price reflects the quality though so don't be surprised! A great go-to for wedding jewelry or something fun. I am a fan.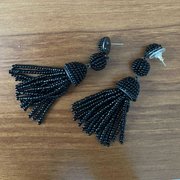 ---
What is Thingtesting?
Thingtesting is an unbiased place to research and review internet-born brands — because honest reviews help us all shop better. Learn more.
---
BaubleBar is a really fun brand! Their pieces are great for special occasions and adding some ~flair~ to your look.
---
If you are looking for trendy jewelry to try out… this place has a lot of assortment. I typically stick to fine jewelry and classic styles, but for occasions like vacation or weddings I sometimes look to BaubleBar for a fun earring. Just don't expect it to be high quality.
---
Really on trend products with a lot of variety. I love the casetify collaboration and loved my phone case that was super durable yet stylish.
Feedback
Higher quality for the jewelry.
---
I used to buy a lot of Baublebar. The price point was great, and I loved the range of designs.
Feedback
However, as I started buying their fine jewelry line, I noticed they really missed the mark: I have a pair of gold vermeil/sterling silver based earrings from them. The gold vermeil has completely come off within a few months of daily wear, and I mean COMPLETLY. I understand there would be tarnish if I'm wearing it daily, but I did not anticipate (and not happy with) the fact that these are now completely silver earrings because all the gold came off.
---
Love their jewelry if you are looking for statement pieces. Very fun and decent quality. However, I wouldn't wear it in the shower or when I am applying lotion.
---
Nice designs for fun! Perfect for the cool young kids to wear for a few weeks or months.
Feedback
You wouldn't expect the quality to be great. You can't zoom in to look at the details, you also don't want to wear them for too long.
---
IMO BaubleBar has the best options for affordable and trendy custom jewelry and other personalized gifts. Anytime I've wanted to give my friends a super personal and stylish bracelet or necklace, BaubleBar is my go-to. They have a lot of fun jewelry that's on trend and it's pretty affordable.
---