Average rating from 11 users
70%Recommend to a friend
Akua Reviews
All

11
Kelp Jerky

1
Kelp Burger

1
Received a free product from Akua
i was able to try akua's kelp burger patties with a free product offer, and quite enjoyed them! as a vegetarian who has tried their share of veggie burgers, i was expecting this to be a little funky, given the ingredients. that being said, they were really good & had a nice umami flavor, which can be missing from other veggie patties. if i was looking to have a quick dinner or lunch on hand, i can see myself buying them again.
---
As a kelp fan, I wanted to love this product, especially since I know their kelp burgers are among the first of their kind and a huge hit in the plant-based community. While the kelp jerky comes in interesting varieties, the quantity within each bag is quite small. That, and the texture has proven incredibly dry. Whether the spicy Thai or rosemary variety, I came to find that upon finishing my first two bags, it wasn't something I gravitated to purchase again.
---
---
I bought Akua on Instacart on sale, so I paid $3 for 2 burger patties instead of about $4.99 per patty. I don't know if I'd pay more for them than I did, but never saying never! The flavor is awesome and way better than expected. It tastes amazing, I'm not a vegetarian but I enjoy a veggie burger here and there and this had great savory flavor. It played well with traditional burger toppings.
Feedback
The patties were falling apart before I even removed them from the freezer bag packaging. They're SO delicate. I expected the frozen patty to at least retain its shape, even frozen for weeks it had the texture of Playdoh. That's how soft and malleable these are. I put these on a bun with lettuce, sprouts, red onion and condiments, and melted cheese on top of the patty and unfortunately it was impossible to eat like a normal burger. The whole thing crumbled and collapsed into itself despite having the buns and toppings to try to trap it together. It was delicious but messy. I was hoping we'd get a little more shape/it'd be easier to prepare. I was also a little surprised that when I opened the box there were only two tiny patties. A single one was definitely filling, so no complaints, but feels like the packaging size is a little misleading there. They don't include cooking instructions on the packaging, you have to scan a QR code. This is fine... but maybe not so inclusive for folks who want to eat less meat but aren't super smart phone savvy. When I did scan the QR code, it sent me to their product page where I was immediately pushed a pop up and they were trying to sell me 24 burgers for $120. Whoa. I didn't love that. I had to scroll a bit to try to find the instructions. I wish they'd just pushed me to a page specifically with instructions, I don't want to be upsold to spend $120 on veggie burgers I haven't even gotten to try yet and are falling apart in my hands as I frantically try to figure out whether I should heat them in the oven or on the stove. TLDR, I feel like there are some weird things about the experience but taste was great and I so love their mission!
---
What is Thingtesting?
Thingtesting is an unbiased place to research and review internet-born brands — because honest reviews help us all shop better. Learn more.
---
I have supported this brand through their Kickstarter campaign 3-4 years ago. I've talked to the brand's CEO and her mission and goal are all focused on sustainability by addressing food systems affected by climate change. They take extra effort to educate on how seaweed, notably kelp, can help address climate change. I continue to buy their products. I like the Rosemary Maple and Chili Lime flavors the most. However, to each their own taste. I've had it as a snack or cut it up to put into soups and salads. The ingredients are clean I have not yet tried their kelp burgers or kelp pasta.
Feedback
More sustainable packaging! The price point is a bit pricey, so I usually buy through Thrive Market and get a much better deal.
---
The jerky is pretty good, though it is certainly different from regularly jerky. You really need to readjust your expectations. Interestingly enough, it wasn't nearly as 'seafood' tasting or smelling as I thought it would.
Feedback
I kind of wish it was a tad bit crispier if possible.
---
I tried the Akua Kelp Burgers. They're 100% plant-based, non-GMO, soy-free burgers created from whole foods including planet-saving, ocean-farmed kelp. I was skeptical, but after putting them to the test, they are very good. I think they taste better than a lot of other plant-based burgers and the kelp aspect is very unique. I didn't taste anything that made me think "kelp" by any means which is probably for the better :) I would definitely cook up more of these and I'm curious about Akua's other products as well.
Feedback
Overall taste was pretty good. I will say that I did struggle a bit with the cooking process. The burgers have a different consistency than standard burger patties, or even other plant-based burgers. I followed the instructions on the box, but ended up wasting a couple of patties when they started to fall apart or break into pieces in the pan. I appreciate how natural these burgers are, but whatever the binding ingredient holding the burger together is may need to be explored further.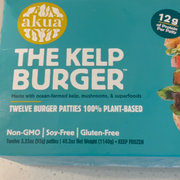 ---
I REALLY wanted to love these...jerky was a go-to snack for me for a long time. But I gave it up after realizing all the additives and negative environmental impacts. I tried Akua and was pretty disappointed- it is the exact texture, taste, and smell of a dog treat. I made my friends try it as a prank. It was that bad. Amazing mission and I really hope the brand nails the taste/texture eventually, but they just aren't there yet.
---
I absolutely love Akua kelp/seaweed jerky. I have sampled all the currently available flavors. All of them make me happy, but if I had to pick a favorite, it might be the chili lime.
Feedback
Even though it's made from kelp, I don't find the kelp flavor to be prominent at all. BUT - I love love love seaweed. If a person is not familiar with seaweed foods, they might be put off. The only other thing I would say is that I wish the bags came n King Size.
---
I was intrigued by the concept of kelp jerky. I like seaweed and I've liked other plant-based jerkys, so I picked up a bag of Akua at Pop-Up Grocer.
Feedback
... Everything. I really didn't like this. It tasted intensely oceanic and made my mouth green.
---
Really unique experience - the sea taste is very strong and the texture is inconsistent, but I really like the plant based jerky option!
Feedback
Some flavors are better than others in my opinion - The Sesame Nori Sea Salt is my favorite out of the bunch! The Spicy Chili & Lime, Rosemary & Maple, and Hibachi Teriyaki were not my favorites ... just a flavor combo i'm not used to pairing with sea weed.
---