Each week, we check in with a different member of Thingtesting's community to ask what brands they've spotted, what they're testing, and take a peek into their recent reviews.
This week's feature is Mady Maio, she's the cofounder of social travel app Camber as well as the co-host of the the Okay Sis podcast. Read on to discover the brands she's recently spotted and everything else in her current rotation.
Know a tastemaker who loves to try new things? Submit their name here.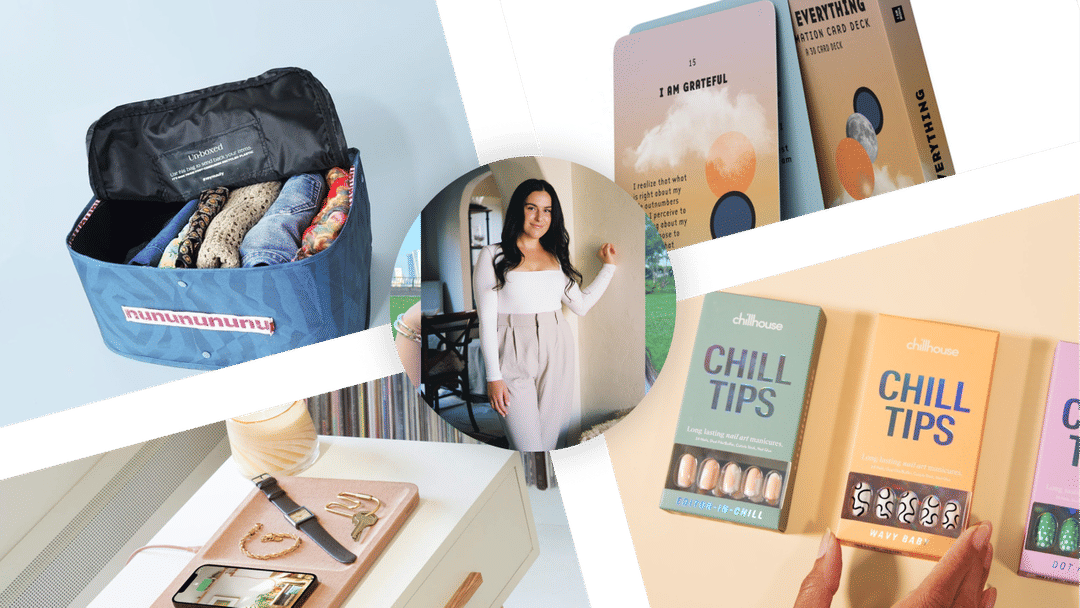 Hi Mady, please introduce yourself.
Hi, I'm Mady, the cofounder of social travel app, Camber, and the co-host of the Okay Sis Podcast. In my free time, you can find me reviewing romance novels on TikTok, drinking natural wine, and playing rummikub with friends.
What are some brands you've recently spotted?
I Am & Co makes these affirmation cards that are integral to my morning routine. I pick a card every morning that sets my intention for the day. They are my gentle reminders to get introspective for a moment.
Oat Haus. When I tell you I eat this granola butter out of the jar with a spoon…it's THAT good. The brownie batter and vanilla flavors are *chef's kiss.*
Four Sigmatic's Focus Blend powder makes me feel like the synapses in my brain are firing like crazy. I add it to my coffee every morning, and I find myself with sustained energy, sharpness, and boosted creativity. Anti-brain-fog.
Chillhouse's chill tips have completely changed my life. 1) I have saved a tooooon of money by not having to get my nails done. 2) They've introduced color and spice in my life that I would have never experimented with on my nails. 3) I have been converted to a lifelong press-on girlie.
SUPERDRIP is the answer to my prayers. Not only does this product help you sweat comfortably, but the whole brand is about destigmatizing sweating and making it cool.
What's a brand you've recently tested?
Your app Camber is designed to help people find the best things to do and places to go in their local cities or when traveling– how do you engage your community?
Camber is a social and community-driven version of Google Maps, so community is in our DNA. We engage with our people over TikTok, our Los Angeles-specific newsletter, and our monthly events where we meet IRL to discover a new place in town.
It's a Saturday in LA, what are you doing and where are you hanging out?
Saturday is my exploration day. I typically find a bagel spot to try (like Belle's Bagels in Highland Park) and then find a nearby coffee shop to read at. Right now, my favorites are Canyon Coffee and Highly Likely. Then, I'll typically go to a new dinner spot in town with family or friends like Saffy's or Heavy Handed. My weekends are reserved for food, coffee, and books.
What else is in your current rotation?
I'm a romance novel enthusiast. In my free time, you can typically find me reading with a glass of natty wine nearby.
Who are some spotters in your community who you look to for new things?
I'm always looking to Girls' Night In, Kactus.jpg, Danielle Lewis, Taylr Anne Castro, and Stefanie Taylor for cool, new brands.
Spotted on Mady's nightstand...
Boy Smells candle, My Girl Wellness bloated pills, Verve Coffee mug, Erewhon mason jar, Le Labo hand lotion, Courant phone charger, and Glossier Balm Dotcom.