Waldo
Waldo crafts daily contact lenses at an affordable price.
www.hiwaldo.com
Average rating from 16 users
20%Recommend to a friend
They are okay, I have tried these pairs and they felts weird in my eyes. I do like the mission on affordable but at the same time you have to make them a little bit better quality too and just the price.
---
The service is HORRIBLE I've had issues for over a year in getting my contacts. They are ALWAYS OUT and give lame excuses and still can't tell me when they will restock. Don't use Waldo
---
---
I never write reviews but this one needed to be done. I've been using Waldo for a few years now and although the contacts themselves are the best ones I've tried (if you actually get them), customer service is god awful. I get charged and sent emails that my contacts are "days away from you!" and then a month later they still aren't anywhere close from being shipped. Getting ahold of someone is nearly impossible. Not worth the hassle of tracking down contacts when you have one last set of "daily's" to last you the month it takes to get a new box.
---
What is Thingtesting?
Thingtesting is an unbiased place to research and review internet-born brands — because honest reviews help us all shop better. Learn more.
---
I am very upset that even after I called to cancel my subscription, I was STILL billed. I was given two business days (Thurs/Fri June 29-30) to sample trial contacts before I was automatically billed on Mon, July 3rd. I did not like the contacts at all and Waldo's customer service was atrocious - the agent I spoke to was rude and condescending to me. Her excuse to me for the billing was "well yes, you canceled your subscription, but you did not specify you wanted to cancel immediately" Ummm...what?? Typically when you cancel something, you expect it to be canceled that moment! Awful customer service and an awful, deceptive practice. 5 Days later and Waldo still has not reached back out to me after "escalating the issue." My bank will now be handling this and disputing the charge. This seems to be the only way to handle such a shady company as this.
---
I never write reviews, but I feel it is absolutely necessary to help others from being set up to be stolen from. Im still baffled the feds havent gotten involved in shutting this criminal organization down. My experience with waldo was signing up for a free box and only pay for shipping, I did this and was told my box would be on the way. I literally recieved it 4-5 months later. It had been so long I forgot I signed up for them. Part of signing up is starting a subscription, after recieving the lenses which weren't all that bad but not able to fill my exact prescription, i opted out and proceeded to cancel my acct which can only be done by phone and that is if anyone answers, it took several times before i actually got someone on the line. I cancelled my subscription THREE TIMES over the course of several months only to be now a year later and STILL being billed and refused refund when i call them to cancel again. There is no way to delete your card info other than cancelling which i have done now FOUR times counting today. I have read several reviews from others claiming the same. This company needs to be investigated and shut down for fraud and a class action law suit needs to happen to refund the millions this company has stolen from innocent customers.
---
Good quality contact lenses that feel comfortable in my eye even when I wear them for way too long and staring at too many screens!
Feedback
wish there was a way to make the contact shell cases use less plastic!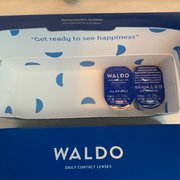 ---
If you need cheap and affordable contacts Waldo is where it's at. I tend to wear my glasses more than my contacts which is why I don't invest time/money into buying contacts. I find these to be a great alternative to Hubble less scratchy/drying feeling.
Feedback
Quality of lenses and better customer support. I'd also love to see thinner plastic casing for less waste.
---
I loved how incredibly easy it was to upload my contact prescription, generate an order, and receive a supply of contacts. Managing my account was also quite easy.
Feedback
Unfortunately I suffer from dry eyes. Unless your contact prescription is incredibly run of the mill, you may also struggle with these contacts. They were so dry and uncomfortable they popped out while I was wearing them!
---
Awful, awful, awful. I became a customer in the beginning of the year, loved them. Then I ran out of contacts in august because they never shipped. Got charged for a second round, called and threw a fit, they said they were shipping that day, I received them about a week later. Got charged again two days after, it's now been six weeks, still no contacts. Called last week, customer service rep said they would skip next month, refund me a month, and ship the "upgraded" lenses to me at no cost that day. Surprise surprise, they still haven't shipped. Tried texting, calling, emailing, and get zero response. They are going to charge me AGAIN in a few days and everytime I try and cancel online the "website crashes". I'm disappointed & disgusted. I can not believe I am going to need to cancel my card and go back to Hubble. I am a business owner and I could not ever imagine treating customers this way, I assume they will end up with a lawsuit soon. Between the theft and lies, I'm just so disappointed. I would love to include an order number, but I cannot considering they lied to me yet again about sending them out. So, I will include You the last successful order number from TWO MONTHS AGO.
Feedback
Literally everything.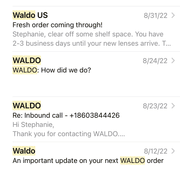 ---
Great customer service. They respond to your emails fairly quickly. On the website it does say due to shortage, expect delays. I emailed them when I didn't get them for a few weeks and they resonded and I received them in a week, The hydrating drops are great and the contacts works well. It does feel a bit dry after awhile but the drops help.
---