Average rating from 9 users
100%Recommend to a friend
Really good tea with a tremendous amount of flavor options. I can always find a nicely flavored Twinings tea in my local grocery.
---
Twinings is the default tea choice of Middle England. It's fine. Not spectacular. A solid daily brew. It's what the Mondeo Man would drink. You know what you're getting. A good, solid cup of tea. Brew it builders style, or in my case I'll take an Earl Grey lightly brewed with a slice of lemon. Twinings also make a pretty decent selection of herbal and fruit teas too. I've always loved the Blood Orange and Cranberry with a hint of Pomegranate after dinner. Anyway, if you're after high quality herbal or fruit teas, you should probably keep looking.
---
---
A legacy brand that has a massive range. I personally like the fruit teas and the cold diffuse. Nothing special but the go-to tea brand.
---
What is Thingtesting?
Thingtesting is an unbiased place to research and review internet-born brands — because honest reviews help us all shop better. Learn more.
---
My family and I are Twinings people. I am drinking Twinings as I write this. We buy their English Breakfast and Irish Breakfast by the hundreds. I'm talking multiple 100 bag boxes. We drink 2-5 cups a day. I've been drinking Twinings for over a decade. Solid, good, standard tea. You can't go wrong with Twinings. Is it the most high quality tea? NO - you need a good loose leaf blend. Steeped in a way where the leaves can open and move around. Which Twinings also sells. But their standard bags are perfect for the daily tea drinker. Their white, green, and herbal teas are good. They don't taste artificial or bitter. Note - the bags of English Breakfast in England are different in strength and packaging than what you buy in the US. The English tea bags are stronger and require less steep time.
---
I was not aware that twinnings had so many different products under its line. Which is cool to know and explore. I personally use the green tea pods. This is a quick and easy option with my keurig. The tea is just fine. Nothing specialty but a trusted brand with a good price.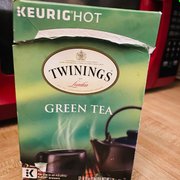 ---
Tea, lots of flavor options. Iced or hot, this is a trusted brand that has been around for a while now. If you see a flavor that catches your eye, chances are it will taste as you expect it to.
---
Great tea and they also have really great combinations.
---
I love the English breakfast tea with a dash of cream in the morning, although I think breakfast tea is breakfast tea and I'm not really tied to Twinnings over another brand, it just happens to be what I have in the house from time to time.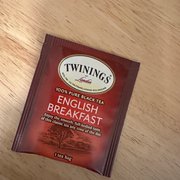 ---