Average rating from 26 users
88%Recommend to a friend
Superfrau Reviews
All

26
Superfrau CucumberLime

4
Superfrau MangoPeach

1
Superfrau PineappleGinger

1
Received a free product from Superfrau
This is a really interesting product. I tried the cucumber lime flavor, and the taste was both salty and sweet. It tasted similar to the gatorade with extra electrolytes. I liked it, but it was just a little too intense for me. The flavor was too salty and it made it hard for me to enjoy.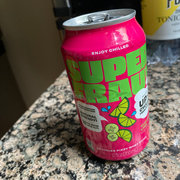 ---
While I'm a fan of kombucha and other "luxury dumb purchases from Whole Foods cooler aisle"- this flavor didn't really work for me. I drank it very cold, out of the can- it didn't seem as refreshing as I would have liked. I think I was looking for more of a bracing taste? I think the product was good, but seemed a bit expensive for me to buy often. I really like the graphics and overall brand packaging, but the name also threw me-- is this for great housewives? Perhaps I'm not the right market for this product.
---
---
Received a three pack from Superfrau website, but also bought some at my local whole foods here in Portland, Maine. The packaging is great. Bright and fun and PINK! The product is innovative and reminds me of some of the soda-like products I have had in europe. The flavors are good and my favorite by far is the Cucumber-Lime. It is great on it's own, but as a summer coooler with a littel rum it was AMAZING!! The fizz level is perfect. Like goldie locks says, not too fizzy, not too dull...just enought to tickle the nose and is perfect! The flavors could stand out a little better. while the cucumber si definitely different, the other two were similar and coudl use a littel extra punch. The upcycle whey aspect is a little weird at first but the more I read about it is really an incredible effort. Female founded this little company is making waves in the drink category. Everyone needs a superfrau in their life!
Superfrau MangoPeach
Superfrau CucumberLime
Superfrau PineappleGinger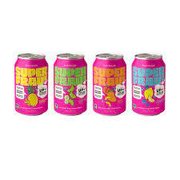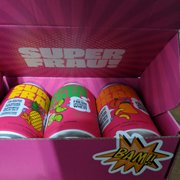 ---
What is Thingtesting?
Thingtesting is an unbiased place to research and review internet-born brands — because honest reviews help us all shop better. Learn more.
---
Not for me. I thought it was really tart and had a strange taste to it that I didn't like. The lime one was way too limey.
---
Love the brand concept and packaging! I found the flavor a little too tangy for my taste but easily adjusted with my own sweetener! I like knowing that the drink supports gut health.
---
I liked them but I could not get over that it was made from milk. The idea is amazing if you love milk or yogurt you will love this.
---
I really like these, it has innovative ingredients, is very sustainable, and the branding is awesome!
---
I guess I didn't realize what I was in for with whey as an ingredient, but I am very pleasantly surprised! It gives a lightly creamy and refreshing element to the beverage. The closest I've come to experiencing something like this is in Asian (mainly Korean) drinks that are yoghurt-y. Definitely a standout in the world of sparkling beverages
Feedback
Packaging was great, it was exciting and had stickers as a treat. I can't think of anything that needs immediate change, I will buy these again.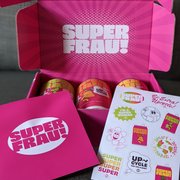 ---
Superfrau makes a fun and delicious, fizzy fruit drink It's made with upcycled whey. It does have a yogurty taste, which I like. It also, made me instantly happy and energetic.
Feedback
lighten up just a bit on the yogurty taste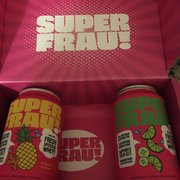 ---
Upcycled. Delicious. Healthy. And fun flavors with excellent packaging!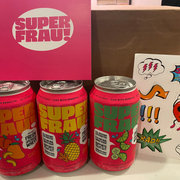 ---