SAYE
SAYE makes sustainable, vegan sneakers from organic and recycled materials.
www.sayebrand.com
Average rating from 4 users
100%Recommend to a friend
I love SAYE! An amazing and transparent company with all of the information you could want on their website - employee demographics, manufacturing practices, social and environmental impact, and initiatives. And we haven't even gotten to the shoes yet. I have tried a few sustainable shoe brands and SAYE blows them out of the water. From the materials, which is plant leather instead of the PLASTIC "vegan leather" most competitors use, to the actual quality and range of designs and color options. I understand limiting articles in sustainability efforts, but always thought we could do better than the most basic of options and colors and SAYE proves that to be true. I wear my pair incessantly - to run errands, to work at the law firm, to the bar, to complement and complete almost any outfit. Cool, cute, comfortable, ethical and sustainable (the shoes and me lol).
---
Love love love these sneakers! Bought them as a replacement for my Vejas and they deliver with a similar look but much more comfortable "out-of-the-box" feel. I paired them with some Fulton insoles and the combination lets me walk around for hours with no discomfort :)
Feedback
A bit expensive! (Though I feel they're worth the price)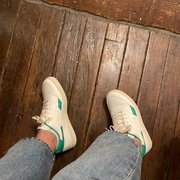 ---
---
Got these as an alternative to Vejas bc they feel so much nicer out of box. Excellent decision. I feel like the craftsmanship is higher on these than the vegan Vejas - they finish the edges of the tongue for example, and the vegan leather feels much softer.
Feedback
My only quip might be the European sizing - I'm usually a 25.5 (JPN) and they only had a 25.7, which is a bit loose. It's fine when I'm wearing thicker socks but in summer things get a bit rattle-y.
---
What is Thingtesting?
Thingtesting is an unbiased place to research and review internet-born brands — because honest reviews help us all shop better. Learn more.
---
I've had 3 pairs of SAYE so far. They are my favourite shoes to wear on my daily life.
---