rèphr
rèphr makes high-quality makeup brushes with a focus on pigmentation and precision at affordable prices.
rephr.com
Average rating from 6 users
83%Recommend to a friend
I have their hydration cream that I got from their testing store where they give you a discount in exchange for providing feedback. I think it's amazing! The texture is hydrating without making my face slimy after and it dries to a nice finish.
Feedback
the aluminum tube with the toothpaste cap is kinda annoying to use on the daily (not as convenient as a flip cap) but i totally get that it's for sustainability reasons
---
I purchased their highly emollient skin cream. I love the texture and feel. It's like a cross between a face lotion and a vaseline and I mean that in the most positive way. It feels rich without being greasy and it keeps my skin feeling plumped. Plus, no fragrance!
Feedback
The site could have a better user interface.
---
---
The quality is superb, but if you prefer vegan brushes, this might not be for you. Brushes are made with extra soft goat hair, I believe. For what it's worth, I believe the hair is extracted by brushing the goat hair. The eyelash curler is also amazing quality. Works for Caucasian and Asian eye shapes. They also have a great program where they sell prototypes for a discounted price in exchange for your feedback. As a user, it's great to know how much my input is valued.
Feedback
Would be great if they could explore vegan options as well to be more inclusive.
---
What is Thingtesting?
Thingtesting is an unbiased place to research and review internet-born brands — because honest reviews help us all shop better. Learn more.
---
Received a free product from rèphr
Beautiful, sleek brushes that are multifunction and perform well. However, I find that the larger fluffy brushes shed on your face as you blend, which is a con for me.
Feedback
Improve bristle shedding.
---
Their makeup brushes are such high quality and you can buy them at a pretty discounted price during their concept store. I love their eyelash curler because it fits my eye perfectly and curls my lashes really well.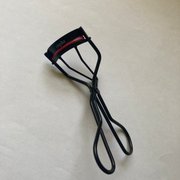 ---
rephr's eyelash curler is a godsend- it complements my asian eyes perfectly and has helped me curl my lashes in a way that i never was able to do before, and they now look better than they ever have. they included a few other curler pads, and i love the curler so much that after a week, i instantly went back and purchased more as gifts. the curler pad itself lasted me about half a year, even with near daily usage.
---