Portland Pet Food Company
Portland Pet Food sells human-grade, ready-to-serve dog food and treats made with meats, vegetables, and grains sourced in the USA.
portlandpetfoodcompany.com
Average rating from 28 users
100%Recommend to a friend
Portland Pet Food Company Reviews
My dog devoured the chicken & pork meal. He's a very picky eater, but enjoyed these meals as we were out & about. We were having a fun filled day & I wanted to grab him something good & ready made, so I chose to buy Portland Pet Food. I'm so glad he enjoyed it as, it was something I needed immediately & met my standards of fresh ingredients.
---
My senior dog really enjoyed Portland Pet Food. She was a picky eater and we were able to get her to eat this food when she wouldn't really eat anything else. I like that their ingredients are human grade and you can actually see and recognize the ingredients.
---
---
High-quality dog food that is worth the price. The Grain and Gluten-Free Pumpkin Biscuit Dog Treats are perfect for a pet with a delicate stomach.
---
What is Thingtesting?
Thingtesting is an unbiased place to research and review internet-born brands — because honest reviews help us all shop better. Learn more.
---
The treats are super fresh and my dog loves them. They are definitely on the pricier side, but I think it's due to the quality of the ingredients. I should add that my dog is not food motivated, so it's always a pleasant surprise when he's excited about treats.
---
My dog has a super sensitive stomach and these treats really worked great for her. Love that they have minimal ingredients and they also carry them in a lot of Bay Area grocery stores as well which is convenient.
---
Our dog loves Portland Pet Food company's dog treats, I assume they're tasty (he gobbles them down) and is made of healthy, natural ingredients so we feel good about feeding them to our dog.
Feedback
I wish the packaging was completely compostable or biodegradable. If they are, then I'm not aware of it, I think there's some plastic on the front (the little window to see the treats).
---
My dog LOVES this food. He knows the packaging now and gets so excited when I pull out it to open and give it to him. As a dog mom - I like the portion that comes in the pack and the food looks edible and fresh every time. I buy these as a treat for when my dog needs some extra playtime and he LOVES this food. Worth the price and I like that it is shelf stable also.
Feedback
I wish the price was a little less but I get it because of the quality of the food and you get what you pay for with this product.
---
My pup loves their treats! They smell really good and the ingredients are top quality. My Pomeranian has sensitive stomach but she hasn't face any digestive problems eating them.
Feedback
I'm looking forward smaller treat sizes and flavors. But overall I'm super happy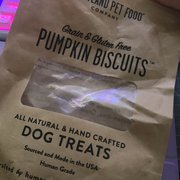 ---
Our dog loved the topper we put on his dry food. It made us feel good giving him something with such obvious quality!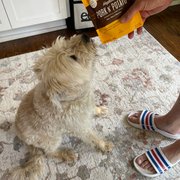 ---
I have a picky eater on my hands, who frequently refuses to accept the high quality kibble his sister eats with gusto. Never once in all the time I have been offering him Portland Pet Food has he refused to eat! I have also been able to coax him to eat other things by using PPF as a topper. We love it!
Feedback
More flavor variety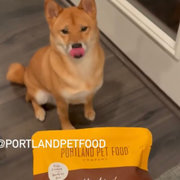 ---