Average rating from 63 users
92%Recommend to a friend
Great quality and non toxic which I love! The colors are amazing too! I don't paint my nails often but when I do this is my go to!
---
My only complaint is that I want MORE shade ranges! The polish is a great formula, they have my favorite brush size/shape of all nail polish, and their top coat is my go-to regardless of what color i'm wearing underneath!
---
---
Love the fun colors and the ease of application from this nail polish! I find they are a fun and affordable way to switch up my nail color, which I really appreciate. I do wish that they were a little longer lasting, because I do feel like I find myself having to reapply after about a week, with only normal wear.
---
What is Thingtesting?
Thingtesting is an unbiased place to research and review internet-born brands — because honest reviews help us all shop better. Learn more.
---
I'm a low maintenance girl and I don't like to spend a lot on nails but I do like my nails to at least look nice. This is a perfect solution for someone like me, fun colors and an all in one system for getting a nice polished look by yourself at home. This looks isn't going to replace fun acrylic nail products but I do like the variety of colors and the easy and quick results I get myself, which is pretty cool considering how lousy I am at painting my own nails.
---
I bought this in the hopes it would turn me into a put-together lady who always had her nails done. It did not. I actually found the whole polish system to be complicated!
---
I love that they are a cleaner option for nail polish that come in a variety of shades for any mood that you are in. I bought a "kit" about 3 years ago and have still been using some of the products. I did find that the top coat dried out very fast.
---
BEST nail polish applicator. Amazing packaging, super cute founder. Wish they never shut down their IRL Studios during covid!
---
My friends put me onto this one. So good, dries fast, and color is glowing!!
---
Perfect purple shade! Photographs well. I work for a purple brand and we've used all the shades of purple for quick shoots.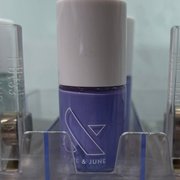 ---
This is a greay budget-friendly nail polish. The color goes on well, and the shine is unbeatable. They are my go-to over other drugstore brands, but I wish they had more colors to choose from. I would love to see more iridescent or "fun" polishes from them.
---