NuFace
4.17 • 6 Reviews
NuFace sells a collection of skincare devices and nutrient-enriched skincare products to tone, lift, and contour your face.
www.mynuface.com
Average rating from 6 users
80%Recommend to a friend
Oh yeah, this thing works. Love her to death. I have acne-prone skin though so I forego their conductor gel. Aloe vera does the trick instead (and is much cheaper).
---
I like my NuFace device but it's hard to tell its effectiveness, hence the star rating. I do feel the micro currents and they can be pretty darn strong at some points on my face! But I'm not sure I see a lasting difference, which is the whole point. Perhaps I need to stay consistent for a longer period of time. I like the process of using the device and feel like it at least gives a good face massage in the mornings!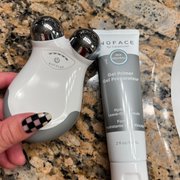 ---
---
More than just a skincare device, NuFACE is an investment in the future of your skin. While skincare products play a crucial role in delaying the signs of aging, NuFACE takes your routine to the next level by addressing the underlying facial muscles. It's like a workout for your face, promoting muscle firmness and helping to combat sagging skin. Incorporating the extremely user-friendly NuFACE into your routine allows you to tackle concerns that go beyond what creams and serums can achieve alone.
---
What is Thingtesting?
Thingtesting is an unbiased place to research and review internet-born brands — because honest reviews help us all shop better. Learn more.
---
I think this is something that is nice & relaxing, and it does provide a temporary hold... I can't speak to the Trinity device as I've only used the FIX device... but it does work on small wrinkles and fine lines!
---
Like most people, I am still on the fence about nuface. I do see results, and I think I like the product, but after awhile it is hard to tell. You need to use a significant amount of the gel in order for it to not sting your face, and it was gone within 10 days of using it. For a product that you're supposed to use daily, the complimentary gel that you get with a $400 product should be much larger. I repurchased another gel and it is just so expensive to see minimal results. I hope I can come back and change my review to something super positive soon.
Feedback
Communication is key for a product like this, and the brand is lacking heavily on that front.
---
Using the NuFace adds a bit of luxury to my weekly routine. I know its advised to use it as frequently as possible, but I'm not particularly great at developing any skincare habits aside from applying sunscreen. It's very easy to use, and you can really decide how long you want to use it for daily outside of the 5 minutes. There's helpful tutorials online to get you started. After a few minutes in the morning, I can visibly see my face de-puff, it's crazy how well it works. I feel like a sculpted queen.
Feedback
The gel can be quite pricy, especially considering this is supposed to be a habitually used product. Even the subscription isn't much better. They say you can leave it on, but I don't find that it feels wonderful on my skin aside from use as the micro-current conductor.
---