Average rating from 45 users
85%Recommend to a friend
Nespresso Reviews
All

45
Vertuo Line

2
Whiskey Essence

1
Stormio

1
Inissia

1
Very delicious coffee. A bit expensive for the pods, but not more expensive than leaving the house to buy cups of coffee.
---
My Nespresso machine was a bit of an impulse purchase while it was on sale. It was easy enough to use and to clean. The coffee was nice, but the pods can be expensive. I found I defaulted back to my instant coffee routine because it was quicker, cheaper and more accessible, but each to their own. Still a good machine if you're after a more barista style coffee at home.
---
---
We love our Nespresso! It's super convenient to make great coffee and lattes in no time. Strongly recommend the milk frother as an unstoppable duo!
---
What is Thingtesting?
Thingtesting is an unbiased place to research and review internet-born brands — because honest reviews help us all shop better. Learn more.
---
Whenever I'm at my parents' house I love using their Nespresso machine. I'm not a huge coffee drinker, but the purple pods are my favorite. I've never owned a machine myself, but I have gifted one before and appreciate that the brand has a range in pricing depending on the model you buy.
---
Prefacing this with the fact that I drink coffee maybe five times a year. However, that makes me extremely picky and nespresso is probably the only at-home coffee machine that actually makes sense for me. I really like all of their flavors and that I can do a lot with them to get away from the actual taste of coffee.
---
Taste great. Shipping is fast and convenient. Love that they recycle their capsules. Hoping to upgrade to the Breville Nespresso soon!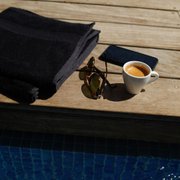 ---
The best pod coffee out there. Simple, quick, crowd pleaser. I actually like it more as black coffee than barista coffee. Has a good level of creme and its not too bitter.
---
The convenience factor is really what drove my 4-star review. It's not the best-tasting coffee, but the pods make it super easy, there's no cleanup, and perfect for a college student like me. It's a great starter coffee maker.
---
It's not the best tasting coffee, BUT when it comes to convenience this machine rocks. I like their recycling program and the machines are extremely easy to use. We put them in our AirBnb and guests love it.
---
I have had a couple of machines and have gotten rid of them all in favor of a moka pot. I just find that the space that the machine takes up is not worth it to me.
---