Native Pet
Native Pet makes high quality, functional dog food using natural ingredients to offer targeted nutrition.
nativepet.com
Average rating from 7 users
100%Recommend to a friend
Native Pet Reviews
All

7
Native Pet Omega Oil

2
I love these products, not only are they super clean but my dog loves them and actually finishes her food now. I have the pumpkin, the daily probiotic and the omega oil. Recommend !
---
My dog loves the omega oil that I put on his food. He's been enjoying it a ton since I've gotten it for him. The design is also very unique and I definitely recommend!
---
---
I bought the omega oil recently, I don't have a dog but I bought it for my cat. Its been working great so far and my cat loves it (picky eater). I personally love the packaging but I've seen reviews of other people say that the pump can malfunction so I guess I'll update if I ever run into that issue but so far, no problems. I got the 8oz bottle just to try it out but there's a 16oz version as well. I love that it's in a metal container so I can recycle it easily (just have to remove the plastic pump on the top) Serving size for cats is super easy (1 pump a day per 10lbs for a cat). It has only 5 ingredients in it: Pollock Oil, Salmon Oil, Wheat Germ Oil, Biotin, and mixed tocopherol (a natural preservative).
---
What is Thingtesting?
Thingtesting is an unbiased place to research and review internet-born brands — because honest reviews help us all shop better. Learn more.
---
My dog is a power chewer and goes through most chews/bones very quickly. The exception to that is Native Pet's Yak Chews. I have them on autoship because they're his favorite and he gets a ton of time/use out of them. I have also tried NP's omega oil, allergy chews and probiotic. I know they have since changed the packaging, but I didn't like that the foil came in plastic containers so I didn't repurchase. I use a different probiotic for my dog now that has more benefits but had no complaints about Native's. I really appreciate their transparency on ingredients as well as I am very picky about what I give to my dog. I wish the allergy chews came with something other than chicken as my dog is highly sensitive to chicken (which I learned after trying their allergy chews).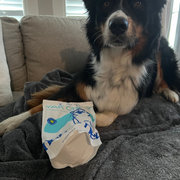 ---
I tried giving my dog the omega oil twice and she started throwing up both times. I made sure to give it to her gradually and tried again to make sure the first time wasn't a coincidence. I emailed native pet asking for a refund and they immediately refunded me after hearing about my dogs symptoms. Shows that they are a company that really cares about pets. While this product didn't work for my dog their amazing customer service was definitely appreciated.
---
Feedback
I love Native Pet. I know that their supplements are high quality and built to provide results. I never have to second guess whether Native Pet is going to be the best product for my dogs. We use the probiotics and supplements regularly and won't go to another brand.
---
I use Native Pet products on a regular basis for my pups. We love the dehydrated pumpkin powder and the probiotic powder as well as the calming chews and omega oil. Native Pet truly has something for every pet! I love feeling like im giving my dogs a boost in nutrition every time I mix in some of their supplements.
---