Molekule
Molekule creates air purifiers to eliminate polluted air in homes.
molekule.com
Average rating from 6 users
83%Recommend to a friend
Always looking for a deal, I waited for a promo code / sale to make this big purchase. We have some rooms in our new home in which the windows do not open - it's bizarre but here we are... With the guest room being one of these spaces, I know immediately I wanted to get a purifier for the space. I was tempted to go with a much larger competitor (Dyson) but they were too cumbersome and not cute. I ultimately went with Molekule because it's petite, quiet (can be loud if you want it to be on full blast), and looks modern and sleek in the space. I enjoy the ease of controlling it from an app and purchasing filters on a subscription basis. I recommend to all - especially office spaces and venues! I have been hired as a consultant on a few venue projects and have purchased these for the dressing room spaces.
---
I absolutely love Molecule. You can quite literally feel the difference in air quality. I have one in my studio apartment and it's a game changer. On boost it's a great noise machine at night, filters last super long, and I haven't woken up with a stuffy nose since I got it.
Feedback
Make one for the car please! There are always smells in my car I can't identify and there's a lot of pollution that's gotta come through the air vents
---
---
This has been a game changer for me. I live in a big city and am pretty sure that the air quality is terrible. So I SAVED for one of these because they are quite expensive but I'm so glad I did. I don't leave it running 24/7 because my energy bill is already high enough, but I run it for stints of several days at a time, once a week or two and more if the air in my apartment is stale. I love that the app tells me when it's time to replace my filter and it couldn't be easier to swap out. There's a bunch of different modes, but honestly it doesn't matter to me. I kinda like hearing the whirl knowing that it's working overtime because it's clearing the smoke from the dinner I burned hehe. The app and reader on it make it easy to use and I love it.
---
What is Thingtesting?
Thingtesting is an unbiased place to research and review internet-born brands — because honest reviews help us all shop better. Learn more.
---
Highly recommend this product! Our last apartment had no fan or hood over the range and this helped greatly with odors, smoke, and particulates. We leave it on 24/7 on lower settings to clean the air as well.
Feedback
Gets loud on higher settings and is expensive, as are replacement filters.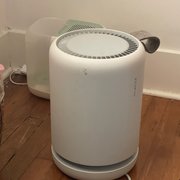 ---
It's great if it works properly. If it stops working properly it has a terrible smell. That you can't stand. Such an expensive product, that becomes a huge problem, no cooperation from the company. DO NOT RECOMMEND THIS PRODUCT AT ALL.
Feedback
This was a gift, they have serial numbers on the pieces, and they wanted me to get a copy of the receipt from the person that gave it to me. How can they be possible, I have the air purifier with a serial number from them ???????
---