July
July creates easy-to-install window A/C units in a clean and modern design, focused on producing less emissions and requiring less energy.
july.ac
Average rating from 7 users
71%Recommend to a friend
July Reviews
All

7
Medium Standard Window

1
I would strongly recommend looking elsewhere for an A/C unit. I was super excited about July because of its sleek look and apparent functionality. But, after less than a year, my unit stopped cooling. When I reached out for support, July insisted on sending me a new unit rather than refunding me.
---
I was on the wait list for a July AC unit for ages so when I got the chance to purchase one I did so immediately. Unfortunately the unit did not fit my very average window without cutting into the bottom of the windowsill. I purchased the AC in all white and though it photographed well it looked and felt kind of cheap and it did not cool my apartment any better than the 20+ year old monstrosity that was in my window previously. I ended up sending it back which was thankfully painless. I did appreciate the hassle free return. Customer service sent me a free return label right away so I could return it and I received the refund in a timely manner.
---
---
Really loved our Julys. Got two, one for the bedroom and one for the living room. The filter is a really nice touch, and though I'm not entirely sure how much it helped, any amount of filtration is helpful in an old, dusty Queens apartment. (Please, someone, anyone explain to me why every single apartment in New York City generates untold amounts of dust?) Apart from the clean look, which alone would be enough to recommend it, the real star of the show was the app. It wasn't perfect, with bugs here and there, but being able to control the temperature so precisely, and to turn it on before you got home (or have the peace of mind that it was off when you left) is a true luxury. We ended up moving to a place with central air, but I honestly still miss the Julys.
Feedback
Work on the app. It's buggy at times, and I would love for it to be integrated into Apple HomeKit. Consider other home cooling devices. I would love a July filtering fan, something like the Dyson PureCool.
---
What is Thingtesting?
Thingtesting is an unbiased place to research and review internet-born brands — because honest reviews help us all shop better. Learn more.
---
I love my AC unit so much. I purchased this last summer and only have great things to say. I purchased this with the white glove delivery & set up which was worth every penny. I was so worried that I would drop this out of the window haha but luckily it was brought up my stairs and installed within 30 minutes. My favorite part is that I can control the unit remotely. I travel often for work and love the fact that I can turn it on for an hour here and there to keep my apartment (aka all of my wine) nice and temperature controlled while I'm gone for weeks at a time. I used to keep my AC on all day long while I was out running errand or at work because I didn't want to come home to a hot apartment. But with July I can turn it on 30 minutes before I get home and have a perfectly cooled down apartment! No need to waste money on electric by running it all day. This machine is small but mighty and cools down my 350 square foot apartment beautifully. I also like the customizable plate to tie in nicley with your home decor.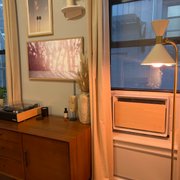 ---
I've used my July for almost 2 years now and love it. The design is chic and minimal, the fan is quiet, the connectivity via app and wifi has never failed me, and most importantly - it cools effectively and rapidly with a unique upward airflow. I could not recommend it more.
Feedback
The front panel does not attach very securely due to small magnets, and the fabric cover mine has quickly collects dust and visible grime.
---
Overall unimpressed by this AC. It does look nice for a while but the side panels are really hard to expand and are difficult to clean. The front panel can be removed for easy replacement of the filter and cleaning but the fabric "premium" panel collects dust on it and is also difficult to clean. The wifi connection is nice and works well but aesthetically it starts to look a bit grimy after the second year of use no matter how much I clean it.
---
Honestly, super impressed with this, start to finish. It works well, looks really different from other Acs I've had, and cool accessories like the clear sides - nice touch.
Feedback
I wish they could find a way to make the thing lighter! It's the same as the other ACs I've had, but I feel that's an area for improvement.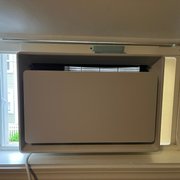 ---