Average rating from 16 users
92%Recommend to a friend
Fallen Grape Wine Reviews
Enjoyed this at a Future of Commerce event. It was light, a little funky *but not funky, funky*. Nice and tasty.
---
delicious natural wine! I'm not a huge wine person but I really enjoyed it.
---
---
I liked the unboxing and packaging and the overall look and feel were cool. I found the wine pleasant but it wasn't something I'd seek out again. If I saw it on a menu though I'd consider it!
Feedback
Nothing really just not exactly my style.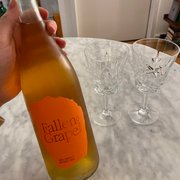 ---
What is Thingtesting?
Thingtesting is an unbiased place to research and review internet-born brands — because honest reviews help us all shop better. Learn more.
---
Friends with Fallen Grape Wine
From the outside in, Fallen Grape is a lovely experience. The branding is really fun and thoughtful– I love the little guy on the cork and on the stickers that come in the box + the matches and handwritten note. The wine itself is best served slightly chilled & enjoyed with friendz 🥰. I'm by no means a wine connoisseur myself, but I'd say Fallen Grape is a very approachable, smooth orange wine in comparison to some of the more funky ones out there.
Feedback
I wanna be able to purchase Fallen Grape locally in Miami 🌴☀️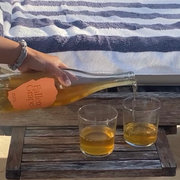 ---
I love the idea behind Fallen Grape. Sustainability has been a huge focus for me over the past few years and I love the brand's mission and vision. The bottle is gorgeous and makes for a great gift.
Feedback
The idea of an orange wine throws me off a little. And I completely understand and appreciate the organic process and that the wine will come with some sediment, but it's more than I'm used to and it was a bit off-putting. Overall, not bad!
---
Thought this wine was tasty & loved the branding. That said, it didn't really taste like skin contact wine to me -- tasted like a standard white wine. Perfectly drinkable, but I probably wouldn't repurchase.
---
I've been looking for more natural wine options, and I've been looking for more Orange wine options. What a gift this wine is! I was lucky enough to get to try this wine through a ThingDrop. The wine itself is fresh, crisp, and fruity without being sweet. The packaging is sleek. And the wine came delivered with a handwritten note thanking me for my purchase. This is clearly a company that cares about quality and excellent customer experience. I hope to have more of their wine soon!
Feedback
I would love to be able to buy it in a liquor/grocery store near me!
---
The bottle is beautiful and the delivery experience was great. Included a handwritten note which was an awesome touch. Always goes a long way.
Feedback
I found the skin contact natural wine a little bitter. I'm admittedly not an expert in natural wine or even wine in general so my review should be taken with a big grain of salt.
---
This was my very first dive into natural wines and it was really great. I didn't know what to expect but it was very crisp and felt perfect for a summer day extremely chilled. Branding/design is great as well, feels premium but approachable much like the wine itself.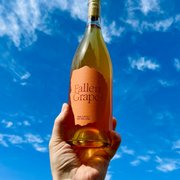 ---
Received a free product from Fallen Grape Wine
I love typical (grape) wine so I expected not to like this, but IT WAS DELISH. Not too sweet, not too dry. I don't do much sugar in my diet, but I also don't love super super dry wines. This was a perfect fit. I like to think my palate is a bit refined after many years of tasting fine wines…$20 bottles at the grocery store don't do it anymore. But this product was phenomenal. Will buy again!
---