Done.
Done. provides personalized, judgment-free ADHD consultation and treatment.
donefirst.com
Average rating from 25 users
0%Recommend to a friend
These people are SCUM OF THE EARTH! I warn you, DO NOT deal with them. They steal your money and you'll get nothing but the run around from them! They need to be SUED, BIG TIME!!!!
---
Signed up because it is hard to find resources in CA due to the shortage. App sets you up with everything. It isn't until you get inside the 24 hour window of your first appointment that they'll send you an email saying no major pharmacy will fulfill their prescription. I called my health insurance company and the customer service agent had nothing good to say about them. How bad do you have to be for a health insurance company to think you are trash. Immediately cancelled my account and ate the bill. Woke up a month later and they are still trying to bill my card. No human will pick up. And if you do any search for their people, the only person I could find on them publically was titled a "chargeback specialist." So they know they are trash and they hire people to be shady. Beware, the company is terrible.
---
---
This company is a scam! They will charge your card, but you won't hear anything back from them. I requested a refill on 6/29/23 (same day as when they charged my card $79), and it is now 9 days later in the evening of 7/7/23. I have not heard anything back from Done other than a generic message letting me know that they're working on it and it might take up to 3 days to get the refill. It's been 9 days! This is such a hassle and an absolute waste of my time. Also, it's expensive for the "convenience." I added my receipt of payment as proof with my name and claim number blacked out as proof.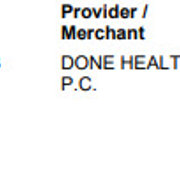 ---
What is Thingtesting?
Thingtesting is an unbiased place to research and review internet-born brands — because honest reviews help us all shop better. Learn more.
---
Scam. I have an adhd diagnosis from a neuropsychologist and wanted to explore medication options via Telehealth. Medication prescribed cost $367/ month AFTER insurance. So I found a pharmacy with the generic version which was under $100. I've been trying for a week to get them to transfer my prescription and they keep sending me a message saying are you sure you want your prescription transferred? Yes that's what I'm asking. Wasted $200 on a 25 min appt to not recieve care now you're not gonna be getting a story.
---
I went to telehealth because it was cheaper than my high deductible. That was a BIG mistake! I answered the questioneer truthfully and they had all my medical records. According to them it was worth it for me to have an appointment. $200 later just to be told I need to go to my psychiatrist. They had all my information, they new I had a psychiatrist, why couldn't they just email me and say, hey, don't waste your money, we won't help you. Instead I spent $200 for 15 minutes with a rude ass NP, Samantha O'Donnell, that I could tell was judging me from the minute we were on call. I called the company the same day demanding my money back and they refunded me $30!!! Don't waste your money like I did!!
---
This company is horrible. I was online and started the process of making an appointment. I stopped mid registration and they considered me a no show and would not issue a refund. The charge was $199 for an initial fee which was not clear during the registration process. There was no information about amount when registering or even an email detailing charges. The registration process wouldn't let me exit or go back to cancel. Their customer service is practically non-existent. They don't have a phone number to call. You can email but they give you the run around. You can make an appointment for them to call you but they will cancel or reschedule it. They'll keep emailing you to say that your ticket is closed and the issue was resolved but it wasn't. 0 out of 5 would recommend!
---
I got to see a provider 2/8 months that I stayed with done. On 4 of those months I had to cease treatment. At some point they had a single provider in my area (a capitol of a large state) and that provider refused to see anyone, eventually leaving to start her own practice. Providers cancel all the time, which may be surprising to new patients until they realize that done is literally scraping the bottom of the barrel by underpaying and overworking their providers. The bottom line is that you will get much better service if you just see a local doctor. The customer service is literally the worst I've ever experienced. I'm sure this company does good work in San francisco. Anywhere else, prepare to feel like you don't matter at all. Through email or phone, customer service reps from a clearly outsourced third world country will literally just read a prompt to you over and over again no matter what question you actually ask. Prepare for 3 day pauses between email response. Prepare for service reps to literally pretend to fix problems just to shut you up (i.e. "I've confirmed we've sent a prescription to your pharmacy" when none was received—this happened multiple times). Looking back at my experience, I think this service was as close to a straight up scam as I've ever managed to get caught up in. Please do yourself a favor and avoid like the plague.
---
This company is honestly the worst. Do expect to be treated as a number and do expect them to get your money and ghost you. The providers do not care about. It's impossible to get an appointment!! Once you swipe that card and speak with the provider for 10 min that is it!! They will push you a med based on a 5 min test, and if that med doesn't work or you get a serious adverse effect like hear palpitations good luck! Cuz they will insist you continue the med, you will be unable to to make another appointment and they will charge you regardless if you are receiving meds or speaking with a provider. If you complain to them, they will say they are going to schedule an appointment only to cancel it the day of and reschedule a few times and then leave you an zoom for over an hour waiting just to cancel it again!!!! Save yourself the money, the heart ache and the the time. Don't mess with a company only wanting to capitalize on individuals are are in need of help
---
I will have you know that my experience with Done First has been very impractical and an insufficient source of well-being. I was not able to schedule appointments with my doctor via portal and they gave me a new doctor that made unruly assumptions of me after skimming through my files. The first medication prescribed to me was terrible with agitating/mood swing side effects. The second medication my initial doctor prescribed me was more efficient; however the "new doctor" refused to prescribe the medication and was very unreasonable the whole visit. The second medication prescribed was not refilled within a timely fashion of being a member. So, all in all it was a waste of time and money if you ask me. You are better off going to your primary physician. It shouldn't be that hard. Also, their support team is worrisome, their texts' do not come in properly and they will call you at inconvenient times. It seems like just another scammer platform. You won't be able to cancel in a timely manner or be refunded for your purchase.
---
If I could give 0 stars I definitely would. It's a scam. There's no number to call if you have an issue; just a very basic designed portal that you can only submit requests for. I keep submitting requests and I can't get them resolved. They don't do anything on the call but tell you "we will submit a request and you will receive an email" and you never get the email. In the meantime of you waiting, you will still get charged a monthly fee of $79. They don't even find or call the pharmacies for you to check to ensure the prescription is in stock. You have to do all of the work yourself. They even hang up on you because they are only allowed 10 min per call even though they've done nothing to resolve the issue, & they spend minutes with you on hold to "read over the policy". DO NOT SIGN UP!
---