Bose
Bose makes a range of audio devices from earbuds to speakers.
www.bose.com
Average rating from 21 users
100%Recommend to a friend
Bose Reviews
All

21
NC 700s

3
Bose Sports Earbuds

2
Speakers

2
Sleepbuds II

1
QC35

1
bose quiet comfort are great
---
I had a pair of Bose Noise Cancelling 700 headphones for years, they were incredible; even without music, just turned on, you couldn't hear anything around you. Barely even your own voice. They did lose their noise cancelling ability with age, which is to be expected, and after about 3 years they were no longer meeting my needs, so I had to replace them.
---
---
Super brand !! I tried their headphones and their speakers and they are just amazing!! Maybe it's a bit too expensive…
---
What is Thingtesting?
Thingtesting is an unbiased place to research and review internet-born brands — because honest reviews help us all shop better. Learn more.
---
Loved my Bose headphones. They make quality products. Definitely a pricier option, but worth the investment if you are looking for a product for the long term.
Bose Sports Earbuds
Speakers
---
Bose earphones are renowned for their exceptional sound quality, active noise cancellation (ANC), and comfortable fit. They offer a premium listening experience that is well-suited for a variety of users, including audiophiles, travelers, and commuters. Sound Quality Bose earphones consistently deliver rich, detailed audio with a well-balanced frequency response. They provide a spacious soundstage that allows you to appreciate the nuances of your music, podcasts, and audiobooks. The bass is deep and impactful without being overpowering, while the mids and highs are clear and crisp. Active Noise Cancellation (ANC) Bose is widely regarded as the pioneer of ANC technology, and their earphones continue to set the standard for noise reduction. The ANC effectively blocks out ambient noise, allowing you to focus on your music or work in peace. Whether you're commuting on a crowded train, working in a noisy office, or trying to relax at home, Bose earphones will provide a tranquil listening environment. Bose earphones are designed for extended listening comfort. They come with a variety of ear tips to ensure a snug and secure fit, and their lightweight design prevents ear fatigue. The earphones are also IPX4 water-resistant, making them suitable for use in the gym or during outdoor activities. Bose earphones often include additional features that enhance their usability and versatility. These may include: Transparency mode: Allows you to hear your surroundings without removing the earphones. Touch controls: Enable you to control music playback, volume, and ANC without reaching for your phone. Voice assistant support: Allows you to access Siri, Google Assistant, or Alexa using voice commands. Auto-pause: Pauses your music when you remove one or both earphones. Bose earphones are a premium option that delivers exceptional sound quality, unparalleled ANC, and a comfortable fit. They are a great choice for anyone who demands the best from their audio listening experience.
---
My primary experience is with over-ear headphones (the ones that cup around your ears, not rest directly on them). I've used Bose QC 15, 25, 35, and now the NC700. NC700: I use these every day for about 12 hours a day for work and later for gaming. Sound is good (great with EQ adjustments) and noise cancellation is good but not blow-your-mind incredible. I really like that it remembers your noise cancellation level selection between sessions so you don't have to adjust it every time. I'd give them an 8/10 for comfort. The headband starts to make the top of my head ache after several hours (like 6-8 hours). I never had that problem with the previous form factors for headbands on the QC/Quiet Comfort models that were wider and flatter on the bottom. Now that the new Quiet Comfort Ultras (over-ear) are out, I would recommend buying those instead of the 700s because 1) the headband returns to the old form factor which was more comfortable and 2) they fold again. Obviously for the technical upgrades as well. However, if the now-previous gen 700s are more your price point, you won't be disappointed. Bose overall: They have good noise cancellation, but other makers can do it better. I still choose Bose because of the material quality (they last forever and you can easily replace the cup cushions) and they're comfortable. I like that you can mess with the EQ to get the sound you want (looking at you, Apple). You can also get an additional year of warranty if you purchase directly from the website--haven't found that anywhere else but I'd be happy to be wrong if someone can correct me. One thing to note, and the primary reason I took off a star, is they make it IMPOSSIBLE to cancel your order if you order through their website, so be very sure of what you want before you order. I had ordered the new QC Ultras and then decided to cancel within an hour. I was told that the order was no longer eligible to be canceled despite not being available to ship for another 3 weeks and I would have to receive it and then request a return label, and they would graciously not charge me a restocking fee. Super unimpressed with that bit. But even so, I'll continue to buy Bose because of the quality and sound being worth the price for my preferences and use cases.
---
I purchased the Bose Quietcomfort 35 in 2017 and I have loved them ever since. They have a great sound quality and block out nose really well. I found that they hold up over the years with no compromise to the audio. Highly recommend the investment as they are expensive! They are great for work or travel.
---
i had the nc700's and although they look much cuter and sleeker than the sony's, their noise cancelling just can't compare. i have a partner who loves to play video games and my eardrums don't stand a chance. these are great for airplanes/casual workplaces, but the noise cancelling leaves more to be desired.
---
One of the few top performers in the sound design industry that has not compromised quality over time.
---
I have the Bose Sports Earbuds which I had bought at Costco. One of the earbud didn't work and Bose customer service was extremely helpful and ended up sending me a new pair, which was actually a newer version than the one I had bought. I find they hold very well in my ears. I use them while running and also at home to listen to some music or videos. Also use them sometimes for phone call / zoom calls, but people are complaining about the background noise. I really like the feature to change tracks or change volume just by sliding my finger on the earbud.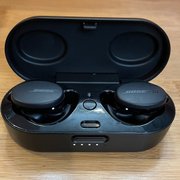 ---