Average rating from 10 users
60%Recommend to a friend
Bonobos Reviews
All

10
Chinos

1
Fielder track pants

1
The chinos are a life changing experience. I have a pair of very bright blue ones that are extremely comfortable. They work well in any setting and am amazed at how the fabric moves with my body. I also own a pair of utilitarian Fielder track pants. They have fun sock designs, but tend to get holes in the sole pretty quickly.
Chinos
Fielder track pants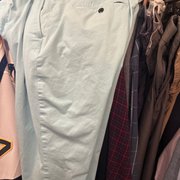 ---
Honestly, it's just okay. I splurged on one of their suits, but I have to admit, it's definitely overpriced. On a positive note, I did receive a complimentary pair of joggers as a result of a customer service hiccup. The joggers are actually pretty nice, super soft and cozy. I appreciate the convenience of online shopping and all, but I think I'll be exploring other options elsewhere for my future purchases.
---
---
I guess I get the original reason... There are some guys who dont wanna shop and thus I am not sure if the "small" and curated version of a department store is the solution. As you see some of the "cooler" chains ebb and flow like J Crew who is in/out depending of the day but I honestly cannot tell who this store is for? When I do walk in, I cant think of it that different from a Tommy Bahamas yet for a slightly different crowd. Basically a LCD... Im not into it.
---
What is Thingtesting?
Thingtesting is an unbiased place to research and review internet-born brands — because honest reviews help us all shop better. Learn more.
---
Independent and while owned by Walmart the company had one of the best customer service programs available - it made shopping online easy and efficient. Today - the customer service is horrible. I would not risk purchasing online from Bonobos. I reached out to the customer service department twice only to received unhelpful and unresponsive responses. I asked to speak with a supervisor to which conveniently "no supervisors are on the phone at this time" was the response- both times I asked. This sounds like a canned response. Two days later I am still awaiting a phone call. Sounds like the company was drained of its talent while owned by Walmart, now the b-team is trying to figure it out. I have been shopping at Bonobos for years - I am now spreading the message, "buyer beware".
---
When Bonobos launched their marketing was that they finally got rid of "khaki diaper butt" and they did do exactly that. I always loved that Bonobos didn't plaster their clothes with their logo like a lot of other companies at the time. And the best thing I've always found with Bonobos over the years is they provide enough size/tailoring options were you can really dial in the perfect fit for you right out of the box.
Feedback
I am a little torn about the brand values after the sale to Walmart in 2017
---
These have been go to chinos and shorts for years. The fit, colors, and sizing are accurate. The "no baggy butt" is really a great feature that differentiates Bonobos. I now have a few blazers and shirts to go with and once again the sizing is excellent.
---
I'm only a few months into my Bonobos, but the tailored and athletic options are the best-fitting garments I've ever worn to work. I find their thinner dress shirts wonderful for warm weather and expect that these should last me for the next 5+ years.
Feedback
I think the price could be a tad lower, as aesthetics would be replicated by other companies.
---
Great styles, superb fit, and phenomenal customer service. I especially love that Bonobos retail locations have a small footprint and don't feel overwhelming like other brands' stores.
---
Lol. It is comical how difficult it was to coordinate an order for my groomsmen. I had to call all 6 individual Bonobos stores where my groomsmen got measured and authorize the payment for their suit. In many cases the store had not saved their home address (??), which I needed to look up during the call. In two cases, the store's phone had a terrible connection (wtf??) and I asked the associate to call me back on their cell phone because we were having trouble communicating. In one case, the store did not actually save the groomsmen's measurements when he came in, and asked him to come back in to get remeasured (they offered him a discount on a future purchase as a make good--lol). In all cases, the call lasted 15+ minutes, because this seemed to be a completely surprising and novel process that the associate had to figure out, as opposed to the literal business that Bonobos is in. Many times, I was not able to get ahold of someone at the store during the middle of the day when I called, or they asked me to call back, because they were the only person on the floor and they were in the middle of a fitting. This took hours and hours of my time and my groomsmen's time and it seemed like every store had a different process (in one case---"oh can you call back on Sunday? XXXX handles groomshop and I'm not sure where he saved the measurements" lololol). How in the actual fuck have you not created an easier way for a groom to coordinate and pay for an order of groomsmen suits? Isn't this, like, something that happens every day? The associate I initially talked to said it would be very straightforward (which, although false, was believable given that it would appear this is a core part of Bonobos' business). Had I known it was actually a shitshow I would have just given each individual groomsmen specific instructions on the suit to order and had them buy their own (and then reimbursed them) (but then how would they be able to get the discount---who knows). This should be super easy: 1) I create a groomshop account and add my groomsmen via their email 2) they get measured at their local Bonobos. Their measurements and addresses are saved to my groomshop account. It's easy to keep track of this info and monitor progress because it is associated with their unique email address. 3) once all measurements have been taken, I swipe the credit card and the orders go out. That is free advice, you don't need to pay me, but I am looking for a new job right now and it does seem that I could do a better job than whoever is currently leading the GTM strategy. There's clearly some low hanging fruit here. Anyway, at least shipping was fast. We'll see how the suits turn out. Hopefully, I won't ever be getting married again, but if I do, I would rather hand sew my groomsmen's suits than go through this process again. Hopefully you get your shit together at some point in the future, and do let me know if you'd like to hire me---I would say my first priority is to revamp this process, but it's more accurate to say I would just be creating a process where one does not currently exist at all.
---