Average rating from 64 users
85%Recommend to a friend
Signed up for the monthly subscription and was very disappointed. The razor wasn't very good at all and broke the first 2 days. And no the company didn't replace it.
---
---
By far the best razor I've ever used in my life. The tampons are great too. Wish I could buy refills not on subscription though.
---
What is Thingtesting?
Thingtesting is an unbiased place to research and review internet-born brands — because honest reviews help us all shop better. Learn more.
---
Its a simple razor that works. I really love their refill program, and doesnt break the bank like some other razor companies. If you just need something that works and holds up, this is it!
---
I've been a happy Athena subscriber for over 3 years. I never run out of razors anymore!.
---
Influencer for Athena Club
I loved the scent of the products and was surprised with how much the shaving cream foamed up! I have had the razor in my shower for a month and it hasn't gotten moldy like other razors have.
---
Influencer for Athena Club
Athena Club has been my razor for the past few years. I always receive my razors on time, and I haven't changed my razor since! It's so convenient getting them auto shipped when I need them. You can also pause your razors if you don't end up shaving that often!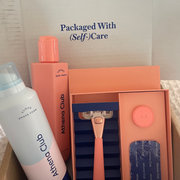 ---
I wasn't expecting much from these since I hadn't heard much about them but I had a coupon code to get a box for free so figured I'd try it. I was pleasantly surprised. They came in a really nice durable drawer like pull out box and 2 - 3 extra blades. Pretty color. And the razors themselves were pretty decent. I prefer a closer shave than these give but not bad at all
---
A suitable razor. Not sure how ingredients really matter with this one.
---
Influencer for Athena Club
I'm absolutely obsessed with what I received. My all-time favorite is the shaving cream it smells so amazing. Athena is definitely going to be my new go-to for my shaving needs!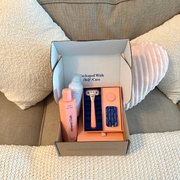 ---