Alessi
4.33 • 3 Reviews
Alessi designs unique kitchen and homeware products, made in Italy.
What is Thingtesting?
Thingtesting is an unbiased place to research and review internet-born brands — because honest reviews help us all shop better. Learn more.
Average rating from 3 users
Alessi Reviews
Experience
Okay, I'm a sucker for aesthetics, and I purchased the Alessi coffeemaker because of how beautiful it is, BUT it works so well! I use it for my daily cup, and I absolutely love it.
Feedback
No changes necessary :)
Good for gifts 🎁
Cool look & feel
Worth the money 💸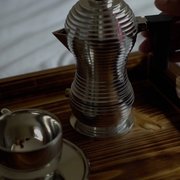 Experience
This is one of my favourite brand for the interiors. I have a lot of they products in my kitchen and I chose Alessi when I have to do an important gift too. I got some of them products from my mom and the quality is so high that after almost 30 years they are totally perfect
Lovely customer support
Good for gifts 🎁
High quality
Innovative product
Cool look & feel
Worth the money 💸
Luxury
Experience
I have their teapot which, at the time I bought it, had a permanent place on top of my stove. Why? It was gorgeous. And it was contagious… soon every serving piece I bought and house gift I gave wasnAlessi as well. Over time, I just grew tired of the look. Once it was fresh and innovative and then I guess I just got bored because it all sort of looked the same.
Feedback
Seemed like nice quality but I was more intrigued by the look. I didn't really use the teapot for tea.