Why do brands want to turn their websites into marketplaces?
Brands are having to think creatively about how they can get shoppers to keep coming back to their websites. Some are testing out what happens when you sell someone else's products.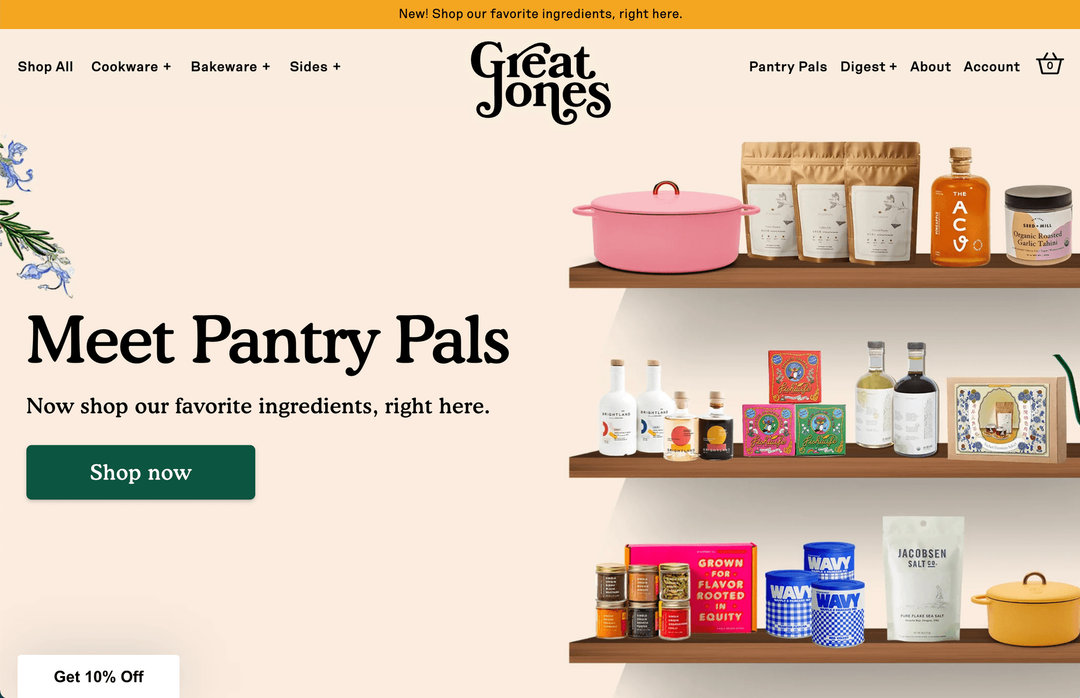 A number of brands have been experimenting with what happens when you sell another company's products on your website.
In August 2022, pots and pans brand Great Jones launched a mini marketplace featuring 20 brands on its website, under the name 'Pantry Pals'. The collection of products included tinned fish from Fishwife, apple cider vinegar from Pineapple Collective and some fancy 'finishing salt' from Jacobsen Salt Co.
According to Canal, the tech provider powering Great Jones' new marketplace, the average value of orders that contained Pantry Pals products was 66% higher than Great Jones normally experienced.
Why do brands want to become marketplaces?
Other brands are exploring the idea of adding products to their websites that haven't been made by them.
In September, pantry brand Acid League launched its 'Maker Series' program, where it selects products from independent brands from outside of North America. The idea is that it is a win-win for both brands — the indie maker gets to tap into Acid League's growing audience and in-house sales and marketing resources, while Acid League itself can give customers an exciting reason to come back to its homepage. This first brand sold via Acid League's website was Onima, a Spanish hot sauce brand.
Baby monitor brand Nanit has also launched its own marketplace to sell complimentary brands in the baby category, such as diapers by Coterie and skincare by EllaOla. Modern Retail reported that since the marketplace launched in November, 55% of overall traffic to Nanit's site is now coming from new customers.
Brands as product recommenders
The proliferation of online brands has made it hard for customers to figure out which brands are selling legitimately decent products, and which aren't worth spending money on.
Bennett Carroccio, the cofounder and CEO of Canal, argues that this opens up a new role for brands, who can position themselves as curators and recommenders of products that they feel stand shoulder-to-shoulder, although not in direct competition, with their own goods.
"Consumers are faced with a ton of options when searching for products online, so brands need to find ways to break through the noise and build trust with the right consumers," says Carroccio. "Brands can curate complimentary products that ideally share the same values as your own brand and what your shopper is looking for."
Canal generates its revenues by charging brands a transaction fee every time a third party sale is made. Canal leaves the brands — both the marketplace host and the third-parties piggybacking — to negotiate how sales revenues will be split. The idea is that the brands which pair up sell products which aren't in direct competition with each other, and ideally could even be used together (for example, kettle brand Fellow uses Canal to sell coffee products on its website).
"The business case is that a lot of direct-to-consumer brands are known for one, two, maybe three products which make up a meaningful share of revenue," says Carroccio. "What that means is that, often, they don't sell products that consumers need to buy constantly."
Brands are turning to increasingly creative ways to reduce their customer acquisition costs and drive more organic traffic to their websites. While some founders may previously have balked at the idea of selling another company's products on their own brand's website, they are now more open to it so long as they can curate the specific items being sold, says Carroccio.
For Canal, this means that it is currently onboarding brands slowly: it currently has a waitlist of over 1,500 brands wanting to sign up to be sold on other brand's marketplaces.