W3ll People
W3ll People makes plant-powered, rejuvinating skincare products.
www.w3llpeople.com
Average rating from 4 users
100%Recommend to a friend
W3ll People Reviews
All

4
Lip Nurture Hydrating Balm

1
Fresh Dew Snow Mushroom Gel-Cream Moisturizer

1
Bio Tint SPF 30 Tinted Moisturizer

1
Expressionist Pro Mascara

1
Pore Detox Niacinamide Refining Serum

1
The Lip Nurture Hydrating Balm is very hydrating and lasts long. It is a bit thick though, which made it a little difficult to squeeze out and spread. But otherwise, it's a good option for a scent less, colorless balm. The Fresh Dew Snow Mushroom Gel-Cream Moisturizer - the consistency is a dream! Light and easily absorbed, leaving a hydrated satiny finish. Love that it contains niacinamide to help maintain a healthy skin barrier. This moisturizer lasts long and sits well under SPF and makeup. The Bio Tint SPF 30 Tinted Moisturizer - I was so pleasantly surprised by this product! It feels great on, applies easily, and matches my skin tone perfectly. After applying, my dark spots seem blurred and I'm left with this very natural looking healthy glow. It's light to medium coverage, so it's perfect for every day use for that no-makeup look. The tint does not slip, and setting powder is not necessary. Love that this is a mineral only SPF with skin nourishing ingredients. Overall, a great product. Would definitely recommend! Was not impressed by the Expressionist Pro Mascara. The brush is nice and is good for separating the lashes, but I find myself having to use 4-5 coats in order to see any real difference in my lashes. I don't feel like it lengthens my lashes, and only adds minimal volume. My skin seems softer after using the Pore Detox Niacinamide Refining Serum. I haven't noticed a difference in my pores, but I do believe the ingredients are helping with the overall health of my skin barrier. It's scent free with a light texture, and I love how gentle it is!
Lip Nurture Hydrating Balm
Fresh Dew Snow Mushroom Gel-Cream Moisturizer
Bio Tint SPF 30 Tinted Moisturizer
Expressionist Pro Mascara
Pore Detox Niacinamide Refining Serum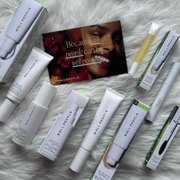 ---
Well People is part of the ELF beauty portfolio and it kind of reminds me of a more upscale version of some ELF products, but at the same time their offerings are a little bit different. I like that their products are in stick formulations so it's easy to travel with. Their cleanser is gentle.
---
---
I LOVE W3ll People makeup. I spent a long time looking for a brand that was EWG approved, didn't use any icky fillers, and was pretty easy to find (could be purchased at a store instead of just online). My favorite products are their mascara, and their stick multi-use blush. I'm not a person who wears a lot of makeup, so most days I just wear their tinted moisturizer (with SPF!), mascara, and the multi-use stick on my cheeks and lips, and call it good. I feel put together, but not overly made-up.
---
What is Thingtesting?
Thingtesting is an unbiased place to research and review internet-born brands — because honest reviews help us all shop better. Learn more.
---
In the non toxic beauty space, it has been hard for me to find an affordable clean and effective makeup brand, until I tried Well People! I use their mascara, the eye liner, the tinted SPF foundation, the bronzer, etc. They are sold at Target and are pretty affordable for non toxic makeup. Highly recommend!
---