Sundays
4 • 3 Reviews
Sundays makes healthy, at-home dog food with unique ingredients.
What is Thingtesting?
Thingtesting is an unbiased place to research and review internet-born brands — because honest reviews help us all shop better. Learn more.
Average rating from 3 users
Sundays Reviews
Experience
My dog goes crazy over Sundays and I feel confident that I am feeding her the best food she can eat. The ingredients and human grade, not heat extruded, not full of additional supplements, and makes feeding simple. Instead of buying toppers, supplements, and other potions to give to my dog, I just give her Sundays every day and know all her bases are covered.
Feedback
It's expensive, but the price reflects the quality. Compare to Honest Kitchen for example - they make a human grade dehydrated dog food that is expensive and is a great product. However, they have to add a lot of vitamins and minerals to the dogs food as supplementary nutrition vs getting those vitamins and minerals from natural bioavailable sources like Sunday does with organs, vegetables, grains, fruits, etc.
High quality
Worth the money 💸
Fun unboxing 📦
Eco-friendly packaging
Luxury
Experience
My dog can't get enough of Sundays. Overall, a positive experience and I feel SO good about the ingredients. I'm an ingredient FREAK and it's the cleanest on the market. It is a subscription service dog food that isn't set to "every 3 weeks, every 6 weeks etc." it is all based off of your dogs food intake, weight, breed, energy etc! I have to say, every time I see myself getting low on dog food, and I log-on to their website to order more, I see that they've already shipped it ! and it arrives in literally TWO days.. so fast its insane. The frequency is perfectly in sync with my dog's activity which is around 3 weeks right now for a VERY active Stumpy Tailed Heeler and it will change month to month.
Feedback
My dog is my child so I would pay any amount of $ for proper clean nutrition but holy h*ll its expensive. $100 every 3 weeks for around a 32oz bag. So I do wish it was more affordable but, he deserves the best so here we are!
High quality
Innovative product
Fun unboxing 📦
Works really well
Tasty 😋
Love the brand's mission 💕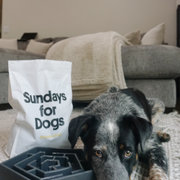 Experience
My dog loves this food and she's super picky
Feedback
The amount that the dog gets a day is very small in volume so I think this is a better meal topper than actual food—also I think it's too pricy for what it is