Average rating from 5 users
80%Recommend to a friend
Outlines Reviews
All

5
shower curtain

2
shower curtain liner

2
I love the idea of businesses taking the burden of recycling off the customer and taking on the responsibility but unfortunately, the Outlines shower curtain and liner is not working out for me. I've only had the shower curtain for a couple of months and the "keep" part of the curtain has grown a really nasty mold. When I first received it in the mail and saw the product I felt like this would become a problem. The fabric is thick and takes takes forever to dry even though we always have the fan going and we stretch it out after we shower. I noticed little black spots within a month and it continues to grow, even though I put it through the washer. It's the worst on the underside of the flap that attaches the liner. I wish I could recommend this brand because I've been looking for a liner that is recyclable and more eco friendly but I don't want to have to constantly deal with a moldy curtain.
shower curtain
shower curtain liner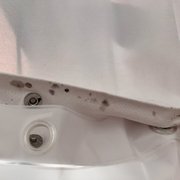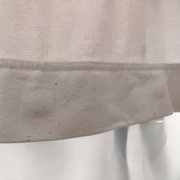 ---
I ordered this after learning about it here on Thingtesting. I like that the top of the curtain is fabric (because that part rarely gets dirty on a plastic liner), and that the bottom detaches. I haven't sent back for recycling yet, but getting rid of my guilt of throwing away a plastic liner is nice, and having the auto-replenishment is helpful. The liner portion is non-toxic which is also a bonus.
Feedback
I don't have a particularly high shower rod, but the regular length liner barely grazes the top of my tub.
---
---
Great mission and product!
---
What is Thingtesting?
Thingtesting is an unbiased place to research and review internet-born brands — because honest reviews help us all shop better. Learn more.
---
I've had this product for over a year now and have come to appreciate its perfection: it's a real luxury upgrade to the bathroom. It lets in the perfect amount of light somehow and gives the shower a feeling of being deeper and richer. Even the way the shower hooks slide feels weighty and luxurious. The shower curtain is always clean, thanks to the responsible replenishment system. It makes you really think about how having all of the stuff of life designed to the nth degree actually improves your life materially.
shower curtain
shower curtain liner
---
Keeps my shower feeling clean and looking great. Love that it's better for the planet.
---