ONE/SIZE
ONE/SIZE sells skin and beauty products made for all genders and skin colors.
www.onesizebeauty.com
Average rating from 9 users
100%Recommend to a friend
ONE/SIZE Reviews
All

9
On 'Til Dawn Mattifying Waterproof Setting Spray

1
Love the oil based makeup remover spray! I haven't used anything else like it!
---
i have only tried the On 'Til Dawn Mattifying Waterproof Setting Spray patrick truly put his entire foot into this spray! i have extremely oily skin and live in a desert and this keeps my face in place for hours. minimal-to-no transfer. i have a mini and it's still going strong, definitely will be getting the full-size
On 'Til Dawn Mattifying Waterproof Setting Spray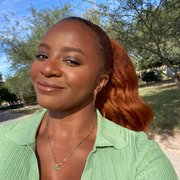 ---
---
I love the packaging, they look so cute, you could try the concealer and blush.
---
What is Thingtesting?
Thingtesting is an unbiased place to research and review internet-born brands — because honest reviews help us all shop better. Learn more.
---
His makeup gives me Jeffree Star vibes.
---
One Size turn up the base foundation is one of the best pressed powders I have ever used. Great to help smooth texture and fine lines. I love how the brand has a great range of shades for the foundation. I am a huge fan of Patrick Starr. I love supporting anything he releases!
---
I've only used the Go Off makeup dissolving mist but WOW does it work! I'm obsessed! It's super effective, smells nice, and is perfect after a night out when I'm being especially lazy and don't want to fully wash my face / go through my skincare routine (which is bad I know). I highly recommend Go Off. It's incredible.
---
The "secure the blur" makeup magnet primer is unlike any primer I'd ever used before (I'd always used variations of brightening/highlighting ones)- but this is so top-notch for gripping makeup in place all day long that I don't know if I'll ever be satisfied with non-"gripping" primer again! Apparently I'd been missing out. I also have (but have yet to try) the "secure the blur" hydrating under eye patches & the "point made" eyeliner pen, so stay tuned on those reviews.
Feedback
The primer packaging. It's made of super solid plastic. It'd be nice for squeezing purposes to have more malleable material. I'm one of those crazy people who waits until it's too late then frantically tries to cut the bottle open to get the rest out & I had a devil of a time cutting through that plastic!
---
I love the One/Size eyeliner ! Literally stays on ALL DAY and does not come easy when trying to remove it with makeup remover - but not really complaining on that part because I'd rather it be hard than easy to remove.. do ya hear me ladies?! Great product!
---
Color Selection: The ONE/SIZE blushes come in a variety of shades, catering to a range of skin tones and preferences. The color selection includes both matte and shimmer finishes, allowing for versatile application and the ability to create different looks. Users appreciate the thought put into the shade range, as it offers options for both natural, everyday looks and more vibrant, statement-making styles. Pigmentation and Blendability: ONE/SIZE blushes are often praised for their excellent pigmentation. A little goes a long way, and even a light application can deliver a noticeable pop of color. The formula blends smoothly onto the skin, making it easy to achieve a seamless and natural-looking flush. Users also mention that the blushes are buildable, allowing for customizable intensity depending on personal preference.
---