Madre Mezcal
Madre Mezcal crafts handmade liquors distilled with espadin and cuishe agave.
www.madremezcal.com
Average rating from 11 users
100%Recommend to a friend
Not a fan of a mezcal but everyone around me is! So…. The little pocket mezcal flask is the absolute best mini gift/ stocking stuffer. It's also well branded and aesthetically appealing.
---
This mezcal has one of the smoothest texturesand it goes down very easy with a great smoky after taste. I love to drink it straight with one whole Mexican lime w/ zest.
Feedback
I wish I didn't get drunk every time I drank it. But wishful thinking here....
---
---
GREAT mezcal. Brand is beaut. Kept the bottle just for aesthetic. Would order it over other brands if seen in the bar.
Feedback
They don't need to.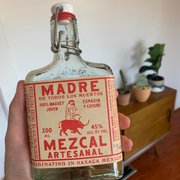 ---
What is Thingtesting?
Thingtesting is an unbiased place to research and review internet-born brands — because honest reviews help us all shop better. Learn more.
---
One of my favorite mezcals. It gives you everything you want from a mezcal and the branding is spot-on. It's a good price point for what it is and makes a nice lil gift.
---
You will love this for sipping if you love Whisky! Smoky and bold with great ability to be different.
Feedback
Keep at it with Highest quality possible
---
This Mezcal is delicious and it comes in beautiful packaging. You can get lost in the brand world so there's a lot to discover here. It's everything I want in a Mezcal - mysterious, a little smoky and authentic.
---
When I can't smuggle in mezcal from Mexico, madre is my go-to. Well-priced and exceptionally smooth and my-oh-my is the bottle beautiful. I usually go for the largest vessel I can when the liquid is this good, but I couldn't stop myself from buying the flask!
---
One of the best Mezcal brands I have tried. The taste is amazing and the bottle it comes in couldn't be cuter! I love displaying the bottle on my bar cart!
---
Madre is one of the best Mezcal brands I have tried. Not only is the liquor pleasantly smoky without being overbearing, I appreciate the brand's mission of preserving traditional production methods and the fact that it remains family operated in a market over-saturated by celebrity-owned brands.
---
We had the great pleasure of visiting this third-generation palenque. We loved the experiences and our hosts couldn't have been more welcoming. Our host was super personable and we tried a couple of different types. They make wonderful mezcal and definitely worth a try!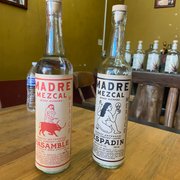 ---