LolaVie
LolaVie, a haircare brand by Jennifer Aniston, combines the best of science and nature into effective hair products.
www.lolavie.com
Average rating from 18 users
44%Recommend to a friend
I finally got around to trying LolaVie after a long wait -- I picked up a travel kit that included the brand's four primary products (shampoo, condish, detangling spray, and serum). I was genuinely surprised, and pleased. For reference, I have super dense, very (VERY) long, curly hair. I also have a history of scalp eczema, migraine, and allergies -- I am consequently highly skeptical of ingredients and FRAGRANCE. Honestly, I didn't have high hopes for LolaVie given my hair type and scalp issues. Also, my hair doesn't look or act anything like Jennifer Aniston's, LOL. The ingredient list pulled me in. I found the fragrance mild, even pleasant -- it's citrus forward with a sweet herb background (think rosemary or clary sage, rather than mint or oregano). It has absolutely no "spice", "musk", and only the faintest hint of cream/vanilla. It smells very clean, which is what I prefer. The scent strength is probably 3/10 and the staying power 6/10 (though my hair tends to retain scent). It DID NOT trigger my migraines or allergies. Overall, this scorecard is excellent. Shampoo -- a mild, non-stripping shampoo. I will probably continue using it for the time being in conjunction with Act&Acre original (which is definitely more clarifying while still being gentle). LolaVie is in my estimation an excellent "maintenance" shampoo, which is good for every 2nd, 3rd, or even 4th washday (depending on your schedule). You'll eventually need a clarifier, though. You also can't expect a literal "squeaky" clean, which isn't necessary for your maintenance washes. I wash twice for every shampoo, and LolaVie is no exception. It removed my pre-wash treatment (Act&Acre) completely with two washes and my hair DID NOT feel dehydrated. Conditioner -- the biggest surprise of the lot. I generally cannot use traditional conditioner (I have to defer to deep treatments as my primary conditioner, plus additional leave-in). This conditioner is medium-weight (imo), creamy, and HIGHLY effective. It takes a minute to wash out (at least if you have thick hair), so be patient and reap the rewards. I didn't think this conditioner would even begin to condition my hair based on the texture alone, but I have rarely been so utterly wrong. Today (day 3) it is still manageable and soft. If you have thin or oily hair, I would condition the length of your hair only and avoid applying it to your scalp ( a good rule for anyone, really), and defer to the detangler spray to condition your roots. Detangling Spray -- the 2nd biggest surprise of the lot. Disclosure ... I have rarely reached for a spray to manage my detangling because I have aggressively tangly hair. I use creams to detangle because otherwise I'd be working it out for half an hour (no lies) and tear my roots, yet I am rarely happy with the outcome. If you're a curly person, you know that the weight of most creams aren't great for your style, even if they do a quick and gentle job of detangling. This spray, seriously, detangled my entire head in just a few minutes. After getting over my shock, I proceeded to finish my washday (easily) 15 minutes early. That is HUGE. I tried it again today (day 3) on my dry hair and it worked through easily, and loosened up my shed hairs without pulling. Perfecting Serum -- I'm not sure what to liken this product to. It's not a styling cream. It's not high moisture. It's only vaguely smoothing. I always use something to help soften my hair (keep it manageable) as a last step, so I used this serum. My hair is soft. My hair is manageable. However, I cannot determine if this serum contributed to that outcome. Maybe? Probably? At the very least it didn't hurt my hair or make it tacky. I'm glad I ignored the mixed reviews and gave it a shot anyway. Grab the travel kit if you want to try without the investment. I'll continue using 3/4 of these items in my routine.
---
After reading the other comments and the overall rating of 2.7 I was surprised. You automatically think when a "star" creates a product that it's amazing, especially when you're a fan of them and want to support their product. I do use the light hair oil and leave in conditioner. I do like the smell as it is very light and fresh. I feel they both work with my hair and really have no complaints. The product does not contain as many chemicals as others which is why it might not be at the top performer for everyone. I use an app called "Yuka" which when you scan the bar code of a product it will tell you where it ranks out of 100. The conditioner (see picture) ranks 65 out of 100, which is considered good. I try and purchase products with less harmful chemicals and Lolavie comes close. Most hair products have harmful chemicals including dyes and fragrance. It seems the healthier the product the less it works.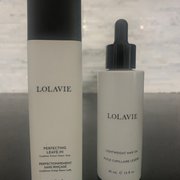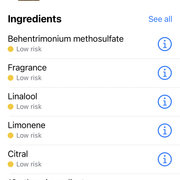 ---
---
I love JA so I wanted to try this and I was very disappointed. The first thing I noticed when using the shampoo was that it smelled terrible. The shampoo made my hair very dry and the conditioner, which someone previously stated was hard to get out of the container, did nothing for my hair. I had to used a ton of it to do anything but It actually knotted my hair really bad and it started falling out by the 4th or 5th wash. I tried really hard to like this product, but it was awful. Don't do it. Loved the brush tho.
---
What is Thingtesting?
Thingtesting is an unbiased place to research and review internet-born brands — because honest reviews help us all shop better. Learn more.
---
My hair is so soft and manageable after using Lolavie Shampoo, Conditioner, and Detangler. I'm in love.
---
I grew up watching Jennifer Aniston on one of my favorite TV shows, Friends. Idolized her! So when I saw she has this line come out I ran to get it, super excited! I am actually going to be throwing out the shampoo and conditioner that I've had for about 2 weeks. It's such a bummer. Paying 38 bucks per bottle. I can usually go 3 days without washing my hair, with this stuff, the next morning after showering at night, my hair is already greasy! The smell is great, but the conditioner doesn't leave my hair easy to brush, the shampoo gives that super clean feeling, but leaves my hair very stiff and dry and hard to work with while washing. I have fine hair, but a lot of it, it's in a bob, so volume is definitely needed, this stuff weighs. It. Down. Don't waste your money, go get something else, TRUST ME such a bummer
---
For the price, these products are not at all worth the money. I bought the shampoo, conditioner, leave-in conditioner, detangler and hair oil. All of them smell like beeswax and all of them left my hair feeling soft but looking oily. I've used the product approximately 6 times and each time I try to adjust the amounts that I use thinking perhaps I used too much. I get the same result regardless of the amount. I am highly disappointed & will not purchase it again. My much cheaper hair products did a much better job.
---
I truly wanted to love these products.! I'm afraid the Restorative Shampoo, and Restorative Conditioner did nothing special for my 65 year old grey hair and in fact it wasn't hydrating nor did it leave it shiny, it was just sort of ho-hum. I've read reviews that some really like the fragrance. Personally I don't think it has much of a fragrance at all, which I understand some people prefer. For me there's no reason to re-purchase. I'm going to go back to Living Proof conditioner. I love what it does for my hair and the fragrance is sublime!
---
I love Jennifer's acting, grace, and hair but what a letdown. I have thick fine hair. I've tried many high end shampoos/conditioners so I don't mind paying for a satisfying product. This shampoo was watery and I had to shampoo quite a few times before I felt my scalp and hair was clean.The conditioner which I had a difficult time even squeezing out of the dispenser did nothing for my tangles and left my hair without any body. Don't bother.
---
Glossing detangler is a miracle worker. Smells wonderful and is reasonably priced for a good hair care product. So excited that it will soon be available at Ulta. But also had zero issues with shipping.
Feedback
Great for all hair types. I have very fine and easy to tangle hair. Doesn't weigh it down. And the regular sized spray bottle last about 2-3 mos.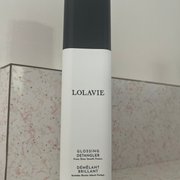 ---
It smells like fruit loops but very hard to squeeze from square bottle & for first time in my life I have so much film buildup on my hair , dandruff, & much more greasy ness . Def can't skip washing while using this. Expensive for small bottle too.
Feedback
Wish I tried before buying full stuff . Shampoo and cond def don't work for me . Never had so much buildup and dandruff before
---