Average rating from 1661 users
Liquid I.V. Reviews
All
liquid IV lemon lime

49
Hydration Multiplier

33
strawberry

31
Passionfruit

14
Energy Multiplier

7
Watermelon

4
Immune support- tangerine

4
Cotton candy

1
Pineapple

1
Tastes terrible and is expensive. I would rather just put salt and lemon in my water or have coconut water. I don't know how people drink this, much less spend that much on it.
---
Love the new sugar free variety
---
---
Obsessed! I'm someone who forgets to drink water -- like I'll look up and say, "Woah, it's 4pm and I've have not had any water!" I try to keep a few of these on hand at all times to drink a few times a week. I have a 40 oz. waterbottle (when I remember to drink water, I REALLY drink it) and will use half a packet. I once used a whole packet and it was toooo much for me because I felt like my body was malfunctioning in overdrive. Also, I just went on a month long trip to France and packed a few of these in my carry on. I mainly wanted to ensure that I could drink one on each transatlantic flight and one a week. I loved it on the flight because it's hydrating and I didn't have to pee multiple times on the flight because my body retained the electrolytes and water. I buy these from Whole Foods.
---
What is Thingtesting?
Thingtesting is an unbiased place to research and review internet-born brands — because honest reviews help us all shop better. Learn more.
---
Influencer for Liquid I.V.
Oh my god this are good n the ones for kids are amazing.. the different taste as well.. I like that my son stay hydrated while been in school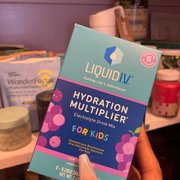 ---
Doesn't taste as good as other alternatives
---
Okay, folks, let's talk about Liquid I.V. 🥤💦 If you've ever felt like a houseplant in need of some serious hydration, this stuff is your life-saver! 💧 It's like a secret hydration handshake for those days when regular water just won't cut it. One word: GAMECHANGER. 🙌🚀
---
I think there are better electrolyte packets out there, ingredient wise. Liquid IV seemed to be first to market and have a decent % of market share but the space is diversifying a lot.
---
Appreciate the idea behind it, but flavors are very hit or miss and they often taste artificial. And too sweet! It was great at the time it launched, but now there are competitors in the space that are making better tasting products and achieving the same (if not better) end goals.
liquid IV lemon lime
strawberry
---
they are far too sweet and the purpose of curing any hangover is evaporated by the power of my immediate nausea. i've tried several times, but the taste is unbearable for my salty palette
---
Liquid I.V. has been such a lifesaver in my day to day! I take these with me everywhere, Between Disneyland or a weekend vacation out on the boat in Arizona these keep me hydrated. They can easily be put inside of a water bottle for easy drinking on the go, I always carry them in my purse for easy solutions to headaches or simple dehydration. They are also so yummy! So many flavors to choose from so everyone can enjoy Liquid I.V.
Energy Multiplier
Hydration Multiplier
---