kencko
kencko offers single packaged nutritious smoothies to create healthy habits.
www.kencko.com
Average rating from 24 users
86%Recommend to a friend
kencko Reviews
All

24
reds

6
greens

6
yellows

4
peaches

4
blushes

4
rubies

2
purples

2
golds

2
ambers

2
tropical blues

2
crimsons

2
mint greens

1
pitaya pinks

1
Great way to incorporate more healthy foods into your routine. It's saves you a lot of effort in sourcing ingredients, chopping, and cleaning blenders and it's easy to carry around. Not all flavors taste good, but they have a good variety to choose from and to diversify from time to time.
---
Received a free product from kencko
OBSESSED!!! so delicious and nutritious - other juices scrap the good stuff and leave you with mostly sugar, but Kencko gives you all the healthy stuff by capturing the whole fruit (fiber etc). Reds is my go-to flavor (though I do mix it up to try new ones all the time) and it's become a daily ritual I very much look forward to. If mixing with water (my preference) its a bit thinner tasting than a traditional smoothie but i prefer it that way. Great hack for travel / on-the-go moments as well.
---
---
I first got introduced to Kencko through a Men's Health website link for healthy food/snacks about 2.5 years ago. As always, I look at the "why" of the brand. I was impressed. This is where nutrition, health, environment, and food waste & sustainability all intersect. And they do this with true transparency. Even their packing is compostable. In the true Japanese concept, they have achieved 'Ikigai.' The food - their most popular are their smoothies. My favorite! You can truly eat or drink the rainbow! Each smoothie is labeled a color...while it may always look it with the dry powder, when added to water or non-dairy milk alternative, they do show their true colors! They are all whole-food ingredients and a sent with a leaflet that breaks down their nutrition label. I have tried to them all and do have my favorites, and recommend that you experiment with their smoothies to determine your favorites. They all taste good! The good thing is you can also add it to yogurt or non-dairy yogurt, in oatmeal, cereal, etc. You can also add plant-protein (of your own) or their pea protein to the smoothie to boost the macros for meal replacement. They also have soups/stews and bowls/pasta, none of which I've tried. Their "gum drops" are also whole food ingredients, great snacks for kids. My son loves the apple gum drops. More recently, they have launched into select Walmart stores. Support - Every buyer has access to their dietitians who can help incorporate their item into recipes. They also have virtual educational seminars Company: B-Corp, enough said! I don't recommend their plastic bottle because they're not as easily to clean and leave a lot of residue clinging to the sides. I recommend drinking in glass anyways. Recently, they went to crowdfunding campaign on Republic/WeFunder platform. Since I liked their products and mission so much, and was already using their product for nearly two years, I decided to invest.
greens
peaches
reds
purples
crimsons
rubies
yellows
blushes
ambers
tropical blues
golds
---
What is Thingtesting?
Thingtesting is an unbiased place to research and review internet-born brands — because honest reviews help us all shop better. Learn more.
---
These are great! Opening the box is lovely as they are all laid in a rainbow. The packaging is simple and I tear the top of the box off and put the whole thing in my cupboard. I love that the individual packets are also compostable! I don't love all the flavors but there are enough options that I feel like i can get a nice array of flavors. You do want to follow the directions or you may end up with clumps and some flavors are more clumpy than others! Ultimately more of a thick juice like Bolthouse or Naked juices. I pre-make mine in the morning and drink it later in the day so all the fruits and veg can rehydrate and then I shake again before I drink. I haven't tried their custom bottle yet but saw it had a strainer type thing that I imagine will help it mix so I have ordered two. I saw there's some purchase options where they are complimentary but I didn't get that option-don't know why. Maybe look around for that before you buy. I tried the gummies. Not impressed. They are a tiny bag for the price and taste like gummy vitamins. But that's ok! I'm here for the smoothies and I love them. My family members who are plantbased/whole food diet are enjoying also!
---
Great way to keep yourself nourished and hydrated. Love the company's mission and values too!
greens
reds
purples
crimsons
rubies
yellows
blushes
ambers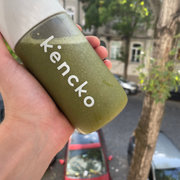 ---
I truly love how easy it is to make a smoothie. I definitely never get in my daily fruits and veggies so this is easy add to my morning routine. I've been taking them when I travel and its easy to use really anywhere. I feel a lot better too from adding this routine into my diet. Highly recommend this to everyone.
---
kencko is so convenient, especially when I travel. As a runner, I also use their pea protein for my post workout shake! The ingredients are truly clean compared to other brands, i love it!
---
kencko smoothies are healthy and taste suuper good. Awesome to have for breakfast, during the afternoon or whenever I'm hungry.
---
As a pregnant mother-to-be, these smoothies have been CRITICAL in helping me and baby get the important nutrients we need. Sometimes it's hard to eat nutritious foods, but these make it so easy and are so delicious!
---
I absolutely love kencko smoothies, especially as an afternoon snack - golds with chilled almond milk is a perfect combo! My top 5 smoothies: reds, golds, peaches, blushes & pitaya pinks!
greens
peaches
reds
yellows
blushes
mint greens
pitaya pinks
tropical blues
golds
---