Average rating from 34 users
97%Recommend to a friend
Hume Supernatural Reviews
I got this because I was looking for natural alternatives for my deodorant and this not only irritated my skin but wasn't great. I ended up discontinuing the product and looking else where
---
I have tried numerous natural deodorants with varying degrees of success. So far, hume is working great. It seems to last longer than many competitors, and the scents are of the variety where I frequently get asked "what perfume are you wearing?" Highly recommend!
---
---
I have tried every.single natural deodorant that exists and loveeeee Hume. It feels nice & smooth going on, leaves no residue, smells amazing, and (so far) seems to be working well! I also tried their unscented dry oil as a carrier oil and found it to be lovely.
---
What is Thingtesting?
Thingtesting is an unbiased place to research and review internet-born brands — because honest reviews help us all shop better. Learn more.
---
Bought this last minute before a flight to Europe because I was out of deodorant and knew I was taking a risk by not trying it out for a few days to make sure it worked. But I'm happy to report, the first time to put used it, I wore it for 24 hours and didn't even smell bad. 10/10 would recommend! It goes on smooth and smells great. The price isn't the cheapest but works really well (and seems to last longer) than other natural deodorants.
---
Product has worked exactly as described, day in and day out since I started using it. It's been an improvement over prior used big name brands, and been one of my favorite purchases of the past few years.
Feedback
Scent variety, and more "masculine" scents.
---
Honestly one of the best natural deodorants out there. I know a main complaint with aluminum-free deodorants is that you constantly need to reapply but Hume lasts SO long. I went a full 24 hours before I felt the need to reapply. I went ahead and got a three pack of Desert Bloom, After Rain, and Amber Woods, and all three smell great and work perfectly. Can't forget to mention that the packaging is phenomenal, it's what drew me to the product to begin with.
Feedback
None, excited to see more from this brand!
---
I have used "clean" deodorants since I was 16 and my mom was diagnosed with breast cancer. I've tried almost all of them with hit and miss success. I recently tried Hume and wow, just wow! I enjoy the scent - it's pleasant, refreshing but not cloying or overpowering. Second, this stuff works! I have used it in the evening and remained fresh all the next day. I've even done my Orangetheory workouts without smelling. I forgot my deodorant yesterday when I showered at the gym; today I could definitely smell myself during the workout. So added proof this stuff is awesome. Highly recommend and I will definitely be a repeat purchaser!
Feedback
None at this time
---
I found this brand by working with them on a UGC campaign and fell IN LOVE with their deodorant. I used the Prickly Pear Deodorant everyday. I never new natural deodorant could smell so good!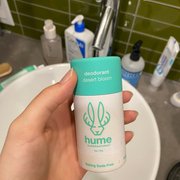 ---
I love this brand of deodorant! I have tried many "clean" deodorant brands in the last few years, but nothing worked well enough to keep me from sweating profusely and stinking. Then I found Hume, and the rest is history! Not only does it keep me relatively dry (no profuse sweating anymore) but it also smells amazing so when I do sweat, I keep smelling great! My favorite scent is Out West, with Desert Bloom coming in close second, and After Rain coming in third. They all smell fresh and unique, like no deodorant I've ever smelled before. They also have a fragrance free option as well.
Feedback
Hoping to see more unique scents in their line up in the future!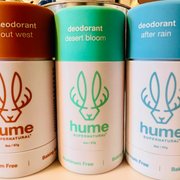 ---
I've been trying different natural aluminum free deodorants for several years now. Hume is the first I have found works well & keeps me DRY!! Even through my workouts & I love the different natural scents.
Feedback
There is a bit of a stinging sensation if applied after shaving. However, not so much I would quit using. It would be nice if this issue could be corrected.
---