Average rating from 45 users
97%Recommend to a friend
This chocolate is so, so good! It's smooth and indulgent. A few squares always satisfies a chocolate craving! The variety of flavors is very nice. I truly believe you can taste a difference compared to less expensive products. Even my kids like these chocolate bars! Well worth the splurge, in my opinion.
---
Amazing flavor options -- love the clean ingredients too. My go-to chocolate brand!
---
---
Love the chocolate-covered berries! Clean and delicious.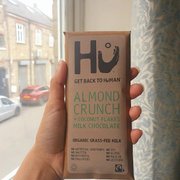 ---
What is Thingtesting?
Thingtesting is an unbiased place to research and review internet-born brands — because honest reviews help us all shop better. Learn more.
---
the Hazelnut is soooooooooooo good. a real indulgence
---
Be wary! I used to adore these chocolate bars. They had many options for vegans and other diets. However, there are recent allegations on the company's amount of lead-content in their chocolate bar. There is even an ongoing class-action lawsuit against Hu Kitchen so I am taking a break in purchasing their product until there is an outcome. In the spirit of fairness, however, I will acknowledge that the actual product does have a great, rich flavor. My favorite flavor is "Cashew Butter + Raspberry Chocolate". The raspberry chocolate filling is really good.
---
For gluten and dairy intolerant friends, I always buy this chocolate. One of my favorite chocolate brands on the market. Every once in a while there's a flavor I'm not a fan of, but it's always a crazy flavor combo- personal preference. Refreshing to see a brand take fun risks with chocolate!!
---
By far my favorite chocolate on the market. I love that I can feel good about indulging in a square, while getting great healthy benefits without any added ingredients that take away from the chocolate's health benefits. It's lightly sweet and comes in a variety of great flavors, from Vanilla Crunch to Hazelnut Butter (combined to taste similar to Nutella). The filled bars are crisp with a creamy interior, while the chocolate itself is incredibly smooth. Plus, the chocolate-covered cashew are another amazing, smooth, sweet treat. Highly recommend.
---
Often in my pantry. Clean ingredients, have never tried a product of theirs that I didn't like.
---
OBSESSED! Love that it is vegan and DELICIOUS... and multiple flavors to choose from. Always keep these in stock.
---
This is my favorite chocolate ever. EVER. All the flavors/fillings are so so good.
---