Average rating from 25 users
100%
Recommend to a friend
Amazing! I have lovely lashes but with this "eye lash craze" that's taken over beauty I thought I'd try something to make mine stand out. That's where the extra Goodies lash serum comes in. It's a game changer without having to go "falsies". Because I was NOT made for using them! I tried them (falsies) once and they gave my eyes 👀 the "willie's" Lol 😂 (meaning my eyes felt like they have something living on them). I also wear contact lenses which adds to the discomfort. The "Goodies lash serum" was easy to apply and did NOT make my lashes hard. They felt natural and looked gorgeous. It's very pricey! But, if you are looking for an alternative, which is also healthy to false eyelashes and the process, this is could be it. The company's customer service was also very helpful when I called to ask about ingredients in the serum.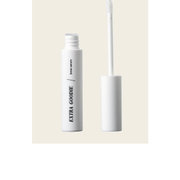 ---
It's officially been six weeks since I've started Extra Goodie! I almost stopped using it about two weeks in because I noticed some discoloration around the lash line, but I stuck with it after a customer service agent assured me that it was temporary. Overall, yes my lashes are longer. However, having come from using GrandeLash, Extra Goodie didn't make my lashes nearly as full or long as what I was used to. GrandeLash made me look like I was wearing classic lash extensions, but I stopped using it and any other serums containing bimatoprost or prostaglandin analogues since I noticed my eyes appearing more sunken due to periorbital fat loss. This is a well-documented side effect of bimatoprost and prostaglandin analogues, but I know some people who have no problems with those. YMMV. So, adopting Extra Goodie was a bit of a tradeoff. Do I have slightly longer lashes using Extra Goodie than when they're natural? Check. Have I had absolutely no signs of lasting premature aging around the eye area that other lash serums have bestowed upon me? Also check.
---
---
My lashes have grown so much since starting to use this from June 2021. From not being able to even reach a curler with my lashes to now being able to curl and use mascara is amazing!!!! Product is also super gentle - zero irritation and side effects! Highly recommended!!!!!
Feedback
Nothing! It's perfect as is!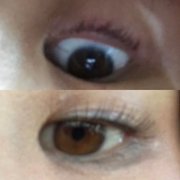 ---
What is Thingtesting?
Thingtesting is an unbiased place to research and review internet-born brands — because honest reviews help us all shop better. Learn more.
---
After getting lash extensions a few years ago I found my natural lashes became extremely sparse and very short. When I wore mascara they would just stick straight out like little nubs and I couldn't even curl them. I wanted to get them back to how they were pre-extensions so I looked into lash serums. I tried out a different brand prior to trying extragoodie which honestly worked so well for me, but it took 3 months and it would sometimes burn my eyes and make them so dry. Then I heard about extra goodie from a friend and decided to give it a try…on my first bottle I noticed a significant difference within the first 2 weeks and not just me…my friends and coworkers would constantly comment on how long my lashes were. Extra goodie did not burn my eyes at all or make them feel dry and I even followed the "twice a day everyday" regimen. When I would use mascara I would barely have to curl my lashes because the length and fullness it gave me was quite dramatic. I just love this product. Also, customer service has been fantastic. They accidentally sent me the wrong item last year and they IMMEDIATELY sent me the correct product and was done in a timely and very polite and professional manner.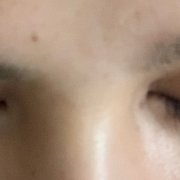 ---
I used to have lash extensions and my friend told me about this product and I am hooked and amazed of how long my real lashes have been growing tremendously. I will continue using this product and I love this is a small local business in Canada.
Feedback
I like the package as it is at the moment.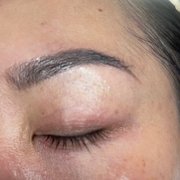 ---
Friends with Extra Goodie
I've tried other lash serums that made my eyes sting (I wear contacts), caused pigmentation under my eyes, etc. While I saw some results from those, they were short-term because my user experience was otherwise so poor, and I never ended up re-purchasing. I'm on my 3rd or 4th bottle of Extra Goodie, and I always have a back-up waiting. The applicator doesn't load on too much serum (it doesn't seep into my eyes, and I'm able to put it on even without a mirror), the serum dries quickly enough to use before mascara, and I feel good about using such a clean formula. I probably get complimented on my eyelashes now at least once a week - even on Zoom. They are longer, thicker, darker, and more plentiful - which is saying something for a typical Asian lash. When I curl them, they just about hit my eyebrows, and my mascara goes on clump-free. I feel like a commercial.
Feedback
Offer gift-wrapping for gift orders! EG makes a great gift because longer, healthier lashes (and brows) is something everyone wants, but no one would think to ask for.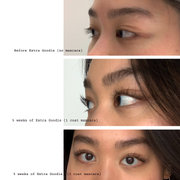 ---
I found out about this brand through a friend's recommendation on social media, I took the chance to try it out seeing their surprising results. From that point on I was won over, I'm on my fourth bottle and been using the lash serum for about 2 years. Honestly life changing for my lashes. Easy to apply and I could understand what ingredients they used in their serum, I love their transparency about being clean and minimal. It doesn't irritate my eyes at all. Overall a firm believer of Extra Goodie, my lashes has never looked so good without mascara!
Feedback
Perhaps a subscription fee for repeat customers, for example in a year you can receive two-three serums on a discounted reduced base fee(?). I know the serums can be pricey for some customers after a while so just thought it would help to retain the repeat customers
---
I was using lash extensions for years but I did not like how expensive it was and the maintenance it took to up keep them. Finally I decided to stop getting lash extensions and grow out my lashes naturally. I found out about Extra Goodie and took a chance, now I continue to get compliments on how healthy and long my lashes are. Love this brand!!
---
As someone who's tried other lash serums which never worked, I was skeptical to try Extra Goodie. For reference, I have super short, thin asian lashes. But 3 weeks in, my lashes were thicker and longer -So impressed!
---
The lash serum is absolutely amazing. Lash serums I got usually irritated my eyes, and this one didn't. Not to mention this product WORKS. You actually see a difference in length and thickness!
Feedback
Amazing product! Extra Goodie just continue what you're doing!!
---