Average rating from 12 users
80%Recommend to a friend
Dusen Dusen Reviews
All

12
robe

2
towel

1
placemats

1
Shower curtain

1
Pepper grinder

1
super cute patterns & interesting housewares! i own a few various things, like the placemats and a robe. they are super cute, but i've always had an issue with the quality of the products. robe has threads coming apart, and same with the placemats. dusen dusen products are pretty expensive, so it's a bummer for them not to last as long.
---
Cute designs, drop shipper quality. I saved up for a long time to get the pepper grinder and tulip shower curtain- you can imagine my disappointment after yearning to spruce up my home with these items, when I opened them up and saw how absolutely cheap and poorly made everything is. The shower curtain is poorly printed on a very cheap shower curtain. It also arrived with smudges on it, as if someone has used it. The pepper grinder is cheaply printed, and the designs have some air bubbles underneath and are chipping. It's absolutely deranged to charge so much for these Temu quality products and claim to be an indie, artisanal company. 0/10.
Shower curtain
Pepper grinder
---
---
Dusen Dusen has made my apartment look so cool! I love the mix of colors & patterns. I personally have a bunch of their towels. They are thick & great quality. Each holiday, I add more from Dusen Dusen to my wishlist. Each drop they release is so fun! This brand would make for a great gift!
---
What is Thingtesting?
Thingtesting is an unbiased place to research and review internet-born brands — because honest reviews help us all shop better. Learn more.
---
I purchased some towels from Dusen Dusen about 4 years ago. Visually they are stunning. Who knew a patterned towel could elevate the ambiance of a bathroom? (Me, I did. I knew. That's why I purchased these towels) But..... minus 1 star because I wish the towels were fluffier and softer. Quality holds up though!
---
I bought a set of towels and a robe from this brand. Overall, the pieces are visually STUNNING and they make my bathroom look so funky and eclectic! However, for the price point, I think the quality could definitely be better; my robe has significant snags in it from being washed, and I've only had it for two months.
---
If you've been in my apartment in NYC, you know it's like every millennials apt in NYC. I've got the towels, the tissue box, the bath robe, the oven mittens, you name it I got it. I'm a black and white guy but when I'm home I'm a Dusen Dusen colorful guy.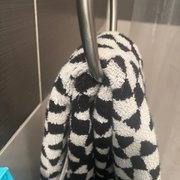 ---
I, like many other people, found the influencers' favorite bedding via Instagram. I have Dusen Dusen's check coverlet and shams in beige and white. I LOVE THEM! They're soft, gorgeous, and my favorite thing in my bedroom. They're great on their own for the slightly warmer months like spring and fall, and during the winter I layer it on top of a comforter. The beige and white color combo is great because I can pair it with almost any colorful pillow case. I cannot recommend this enough!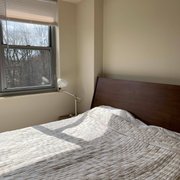 ---
This brand has nearly taken over every home in Brooklyn. And with good reason! The designs are fun and unique and somehow the insane pop of color and pattern feels cohesive with any space. I have a set of the towels, which are not as luxe as the ones I have from Parachute, and the robe. Pricing is not wildly out of reach, but still a bit high given the quality.
Feedback
The towels and robe I have are extremely prone to snagged strings. Also after one use after washing, the towels start to feel really flat and lack absorbency. The fabric items are not as durable or high quality as I would like, so I think the best investment might be in the kitchen items.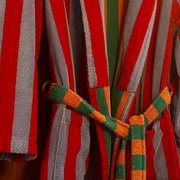 ---
Absolutely beautiful designs--I've purchased 2 robes and placemats from here over the years and, and recently purchased their Moma x Subu collab slippers which are SO fun and durable (rubber sole)--easily my favorite item from this brand.
Feedback
The robes do not do well in the wash--they get caught on everything and pull horribly. I've purchased my most recent robe this summer and it looks like I've been using it for years. They recommend cutting the loose fibers, but truly there are too many after one wash. That said, the placemats and slippers are holding up great.
---
Dusen Dusen I love ya! But! Your quality dive is bringing me down. I remember going to sample sales (back when Cold Picnic shared a studio with yall) and those were the days! My clothing/dog knits have held up well yet the homegoods have not. I splurged on a coverlet that lasted approximately two washes. Whatever fill it has melted and created patches of hard plastic and a few rips. Visually appealing but the quality isn't there.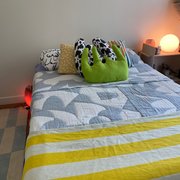 ---