DASH Water
Dash Water makes sparkling spring water infused with wonky fruit and vegetables that contains no sugars, calories, or sweeteners.
dash-water.com
Average rating from 12 users
92%Recommend to a friend
I've only tried the peach flavor, but it's really good. Perfect amount of carbonation and flavor intensity.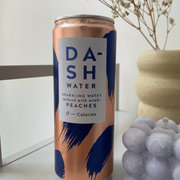 ---
Absolutely adore this brand. Got a variety pack on Amazon and am setting up recurring orders since this stuff is the best mixer and hydrator on a hot summer's day! Love the subtle flavours — such a nice treat to throw in your bag for a day at the park.
---
---
I have ordered from DASH a couple of times when they have had special offers on. My favourite flavours (so far) are: mango, raspberry, peach & blackcurrant. I am VERY keen to try the new lime flavour… The drinks are refreshing & tasty without being too sweet. The flavours are true & not at all false tasting. The cans are a convenient size for a lunch box drink.
---
What is Thingtesting?
Thingtesting is an unbiased place to research and review internet-born brands — because honest reviews help us all shop better. Learn more.
---
A nice refreshing drink with a hint of fruit / veg. It's an upmarket Volvic Touch Of (if you remember those) without the artificial aftertaste.
Feedback
Not a whole lot - I'm not a huge fan of the cucumber, but that's very much personal choice.
---
Great carbonation and tasty flavors. They're great as mixers, but also on their own. I love that they are helping to reduce food waste by accepting "wonky" fruits and vegetables.
---
I only tried the raspberry but I really like the flavour and that they use 'wonky' fruit.
---
I loved the DASH experience. I really enjoyed my water, although I think the infusion could have been a little stronger for my own preference. The branding is stylish and recognisable, & I love their marketing style. I really love the fact that it uses wonky fruit to combat zero-waste, and the health aspect to the drink itself.
Feedback
I think having stronger infused drink options could open up a wider audience.
---
So delicious! I can't explain how packed-full-of-flavour these are! So refreshing and delicious and no sugar but not bitter at all. My favourite is the cucumber one on a hot summers day, truly the most refreshing thing you can drink. Also perfect as a mixer! I love the message that it is using wonky fruit, hopefully reducing waste!
Feedback
Wish they came in 1L bottles in AU.
---
I'm surprised at myself at how much I like these drinks. They are kind of addictive!
Feedback
The price point - it really is expensive for what it is.
---
Tasty and natural alternative to a lot of the sparkling flavoured water out there. Love that it is made of wonky fruit.
---