Base
Base makes tracking your health convenient through their at-home blood testing kits and app.
get-base.com
Average rating from 6 users
50%Recommend to a friend
I was really excited at the idea of better tracking my health at home. They have really interesting "tracks" as well, I picked the Diet one! They make it pretty easy to submit blood samples, all you have to do is prick your finger and drip some blood onto a card that you send back when its dried.
Feedback
I'm not at all confident in the accuracy of the dried blood tests. I happened to have my annual physical with bloodwork a few weeks after my first Base box (that told me a bunch of my levels were a pretty off the ideal range) and my lab work came back with completely different results that had me square in the middle of every single range that my Base boxes had tested me for. The 2nd and 3rd Base box I had were closer to my official lab work results though. There's also a pretty significant delay in between when you send them back boxes and when you get your results.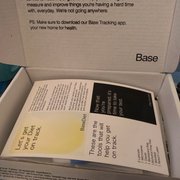 ---
I absolutely love Base! I originally bought this because I was very curious to know about my overall health. My results were a bit expected given I wasn't always feeling my best. After I started following their recommendations for both Energy and Focus I started noticing a significant improvement in the way that I feel. I slept better and had a lot more focus during the day. It's not another supplement, it's real actionable results that help you focus on the It's crazy to think for years I've just gotten blood tests and was just told "these numbers are good/bad" but wasn't educated on how to improve my wellbeing.
Feedback
Time in-between tests, adding an option to pause (when traveling, and user experience to make the information more digestible.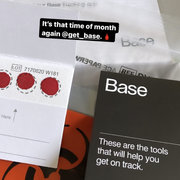 ---
---
I did a saliva testosterone test. It aligned with previous tests that had indicated my testosterone was on the low side, so I know it was accurate. Ultimately I would rather just get a full blood panel at a local lab regularly, but I can see how this would be useful if you don't enjoy that experience.
Feedback
They don't have an android app, so I had to use my partner's iphone.
---
What is Thingtesting?
Thingtesting is an unbiased place to research and review internet-born brands — because honest reviews help us all shop better. Learn more.
---
I had the saliva cortisol testing done and it was consistent with some of my previous testing. I have known adrenal issues and felt like I was having symptoms again, so this was a great way to get an affordable test from home without jumping thru an MD appt and waiting months to get in with a specialist for an appt. Results came back fairly quickly and the results were helpful in getting my actual doctor on board with ordering additional lab work and testing which is something I was hoping he would do. I'm very grateful to the staff at base and wanted to say that the diet, lifestyle change, and supplement suggestions sent to me actually helped me feel a lot better while I waited for my MD to take action on my lab results. I felt like I could have a hand in my own healing and I really appreciate all the follow up info sent my way after my results came in. Great service all around!
Feedback
If anything I would include more information in how to properly collect the kit and what supplements and foods you should avoid prior to collecting it. Like I know if you take supplements and meds such as Ashwagandha or Rhodiola rosea your results can be skewed and there was no info included in the kit telling me I should abstain from these things prior to testing like there is in my kits when I test at LabCorp or Quest labs for saliva cortisol testing. These labs tell me to stop those supplements and meds for 14 days prior to testing. Your kit did not. Does that make a difference and will that mean my results are off? There also was no way to give you information about what medications I take that could skew the results which most labs would ask for. I am not sure if this is necessary but this is the first time I have not been asked this information for a saliva cortisol test kit.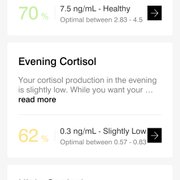 ---
My experience with the product is great and it's easy to unsubscribe/resubscribe. I also think the app has been developed very well. It's efficient and easy to use. The free tips that are provided without paying for a consult after receiving your results are helpful as well. I like that there is a chat function built right into the app so I don't have to try and find a way to contact them.
Feedback
Their timing is a little bit inconsistent. The auto responses go out but I had some issues with follow-through. My 2nd test got lost in the mail and when I reached out and they offered to ship a replacement, I had to remind them a week and a half later. I think it's just a small company issue though so it's not a dealbreaker, but efficiency could be improved.
---
It was a neat idea, but I went in for testing at my primary care physician a few days after receiving my 2nd set of results and his results contradicted the results of this company to a large degree. Base said my TSH was 2.1 & well within normal ranges. My doctor said my TSH is 8.1 & I have hypothyroidism. The tests took a very, very long time to get results back on, and when it said my D3 was low & I began very high dose D3, my results a month later were that I had 0 improvement while following every recommendation to the T.
Feedback
Accuracy of testing seemed off, and speed of test results.
---